This gluten-free pumpkin bread recipe has a healthy twist with the added benefit of flaxseeds. It's dairy free and refined sugar free too. Pumpkin spices and clean ingredients make for a healthy pumpkin bread recipe you can feel good about eating.
Do you like pumpkin bread? If yes, then you've got to give this recipe a try! This gluten-free pumpkin bread recipe has an extra healthy twist with the added benefit of flaxseeds. Not to mention all the benefits from pumpkin, like potassium and beta-carotene (a powerful antioxidant).
This bread has a half cup of flaxseed meal! None of this "sprinkle of flax" you may see with packaged items advertising "made with flaxseeds". One of my pet peeves is when a product advertises "made with flax", but flaxseeds are half way down the ingredient list and there is more sugar than flaxseed in the product. But not this bread, my friends. This bread delivers on the nutritional benefits of flax.
So, get the ingredients for this healthy pumpkin bread recipe and make yourself a loaf (or two)!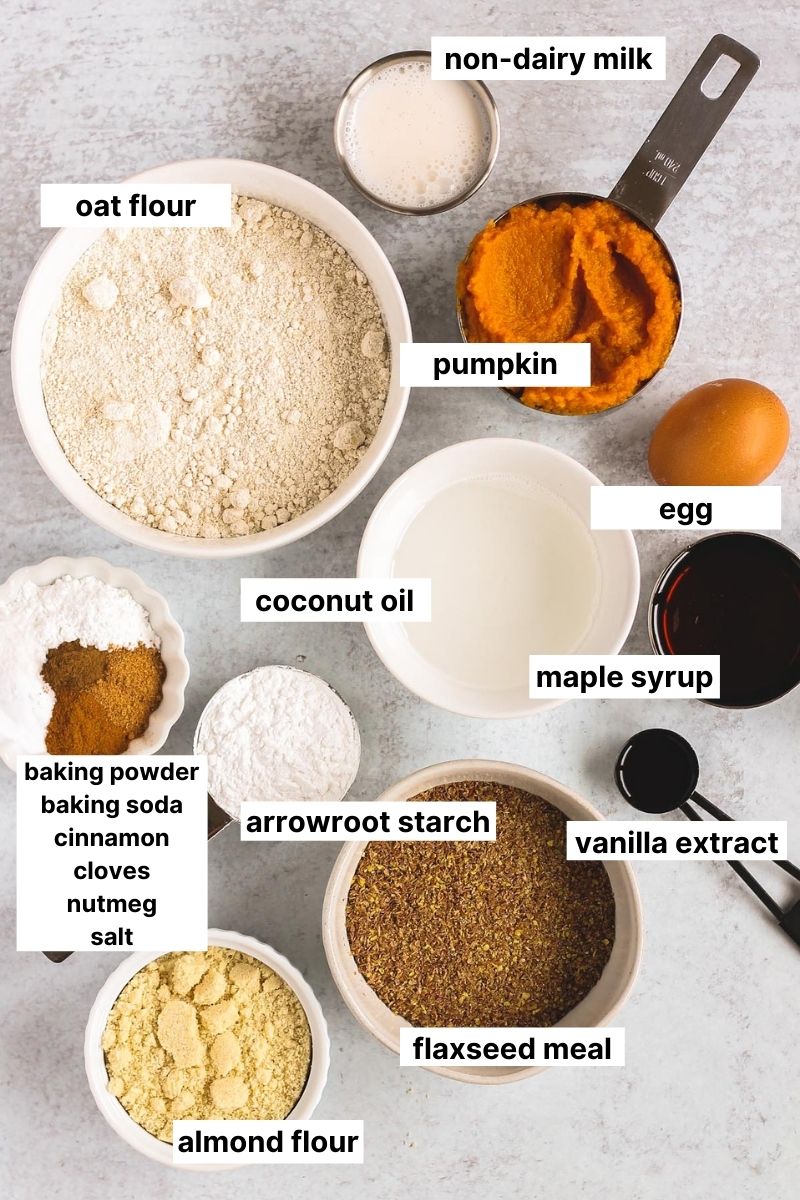 What Are the Benefits of Flaxseed?
Flaxseeds are a good source of omega-3 fatty acids. In fact, they are one of the richest plant based sources. They are also a good source of fiber, are high in antioxidants, and are great for supporting digestive health. And this is why I like to add flaxseeds to anything I can!
Pro tip: ground flaxseeds are best! Grinding the flaxseeds makes it easier for our bodies to absorb and take advantage of all the benefits flax provides.
Keeping the Ingredients Clean
These are specific things I look for when buying the ingredients used in this recipe.Ingredients not listed don't have any specifications when it comes to keeping/purchasing them clean. Most of the time, I purchase organic and I will share with you why here. I understand organic isn't an option for everyone. Please know that if you aren't using organic for the items I recommend, all ingredients used are still considered a real/whole food.
And if you don't purchase items with my recommendations below, the recipe will still turn out great.
ALMOND FLOUR – multiple articles I found on almonds, like this one and this one, state that pesticides, including glyphosate, are used on conventional almonds. So, yet again, another food item that is best to purchase organic if you can. Here are my favorite almond flours, both Organic Almond Flour and Regular Almond Flour (I do buy both of these… the organic is very spendy).
OAT FLOUR - like with most grains, oats are sprayed with glyphosate (an herbicide that's been linked to increase cancer risk) prior to being harvested. Because of this, organic is best to ensure this herbicide does not make its way into your oats.

Oats are naturally gluten free. However, during processing they can become contaminated with gluten. If you are gluten free (like me), look for certified gluten-free oat flour.
COCONUT OIL - coconut oil can be a very clean oil. You'll notice that you can buy refined or unrefined. I typically opt for unrefined (think less processing), however, there are some refined that are clean. I have an entire post about coconut oil HERE if you're curios to learn more. I typically buy Nutiva Virgin Coconut Oil.
MAPLE SYRUP – make sure you are buying pure maple syrup, meaning the only ingredient is "maple syrup". Organic or non-organic? Organic ensures no chemicals are used around the maple trees (typically they aren't sprayed directly on the trees). It also has a lot to do with the environment, farming and land management; like diversity of trees, size of trees before tapping, how many taps can be placed in a tree, etc. Because of all of this, I buy organic maple syrup.
NON-DAIRY MILK - any non-dairy milk alternative, you'll want to look at the ingredients and make sure it's made from simple ingredients. Ideally just the source it comes from (i.e. almonds or oats), water, and salt. At a minimum make sure it doesn't have any added sugars.
EGGS - both from a nutritional standpoint and animal welfare standpoint, I buy pasture-raised and certified humane eggs. To learn more about eggs and egg labels, check out my post HERE. My go-to for eggs are Vital Farms eggs.
SPICES – I highly recommend organic spices when possible. Why? The FDA does not require spice manufacturers to label spices with added ingredients, like sugar, salt, colors, or preservatives… so you never know exactly what you are getting with conventional spices… yikes! Certified organic spices have more standards. They don't have anything added, so what you see is what you get. With organic, you can also be sure no chemicals were used in the growing process of the spices.
Recipe Tips and Substitutions
ALMOND MILK – if you aren't dairy free, any variation of milk will work. You could also sub oat milk, or any variation of a plant-based milk.
ARROWROOT STARCH – you could use tapioca starch/flour in place of the arrowroot starch.
BAKING – the top of the bread may begin to brown quickly. In order to prevent the top from burning before the bread is fully cooked, I like to place some tin foil over the top about 30 minutes into baking.
OAT FLOUR – if you can't find oat flour, or simply don't have any, make your own! Just throw some rolled oats in a high speed blender and blend on high until you have ground them down into a flour. I do this a lot as it's harder to come by certified gluten-free AND organic oat flour.
Why You Will Love This Recipe
HEALTHY – it has the added benefit of flaxseeds and the fact that it's low in sugar (bonus that it's the natural kind) makes this a delicious and healthy pumpkin bread recipe.
FREE OF REFINED GRAINS AND REFINED SUGARS – made using natural sugar and single-ingredient gluten free flours that are whole foods (not refined).
MADE IN ONE BOWL – less mess, all the yummy flavor!
FAMILY FRIENDLY – this bread makes for a great addition to breakfast, or as an add-in to lunches. Making it perfect for the whole family.
More Recipes I Think You'll Like
Almond Flour Blueberry Lemon Bread (gluten free/Paleo)
Best Gluten-free Banana Muffins
Pumpkin Granola (gluten free + vegan)

If you make this gluten-free pumpkin bread recipe, please let me know what you think! Leave a comment below and/or share a photo on Instagram and mention @CleanPlateMama!
Gluten-free Pumpkin Bread
This gluten-free pumpkin bread recipe has a healthy twist with the added benefit of flaxseeds. It's dairy free and refined sugar free too.
Print
Pin
Rate
Ingredients
1 ½

cups

oat flour

½

cup

almond flour

½

cup

ground flaxseeds

(also called flaxseed meal)

¼

cup

arrowroot starch

2

tsp.

baking powder

1

tsp.

baking soda

½

tsp.

salt

2

tsp.

ground cinnamon

½

tsp.

ground nutmeg

¼

tsp.

ground cloves

1

cup

canned pumpkin

(not pumpkin pie filling)

¼

cup

almond milk

(or any other variation of milk)

½

cup

pure maple syrup

(room temp)

¼

cup

melted coconut oil

1

egg

1

tsp.

pure vanilla extract
Instructions
Preheat the oven to 350 degrees.

Prepare a 9x5 loaf pan by either lightly greasing the bottom or lining the bottom with parchment paper.

In a large mixing bowl, add the oat flour, almond flour, ground flaxseeds, arrowroot starch, baking powder, baking soda, salt, cinnamon, nutmeg, and cloves. Mix to combine.

Make a well in the center of the dry ingredients and add the pumpkin, milk, maple syrup, coconut oil, egg, and vanilla. Whisk the egg in with the wet ingredients first, and then fully mix the wet ingredients with the dry ingredients until fully incorporated.

Pour the batter into prepared loaf pan.

Bake for 33-35 minutes, or until a toothpick inserted into the center comes out clean. Check bread around 20-25 minutes. If the top is beginning to brown too much you can grab some foil and tent the top of the bread. This will keep it from over cooking while the bread continues to bake.

Allow bread to fully cool before removing from pan and slicing.
Notes
You can use tapioca starch/flour in place of the arrowroot starch if needed.
You'll want your maple syrup to be room temp so that when the melted coconut oil is mixed in with the wet ingredients it won't solidify again. 
Make sure you are using canned pumpkin and not pumpkin pie filling. The only ingredient listed on the can should be "pumpkin". 
You can sub any milk alternative for the almond milk. Dairy milk works too if you're not dairy free. 
Let the bread fully cool before slicing. I know it will be tempting to dive right in, but allowing it to cool helps to set the texture of the bread since gluten-free flours can be finicky when baking. 
Nutrition
Calories:
271
kcal
|
Carbohydrates:
32
g
|
Protein:
6
g
|
Fat:
14
g
|
Saturated Fat:
6
g
|
Cholesterol:
16
mg
|
Sodium:
359
mg
|
Potassium:
229
mg
|
Fiber:
5
g
|
Sugar:
11
g
|
Vitamin A:
3837
IU
|
Vitamin C:
1
mg
|
Calcium:
147
mg
|
Iron:
2
mg