From breakfast to baking, we go through a lot of eggs in our house. And when buying eggs, I'm faced with a lot of options and various labels. So what do all those egg labels mean? Here is your egg buying guide!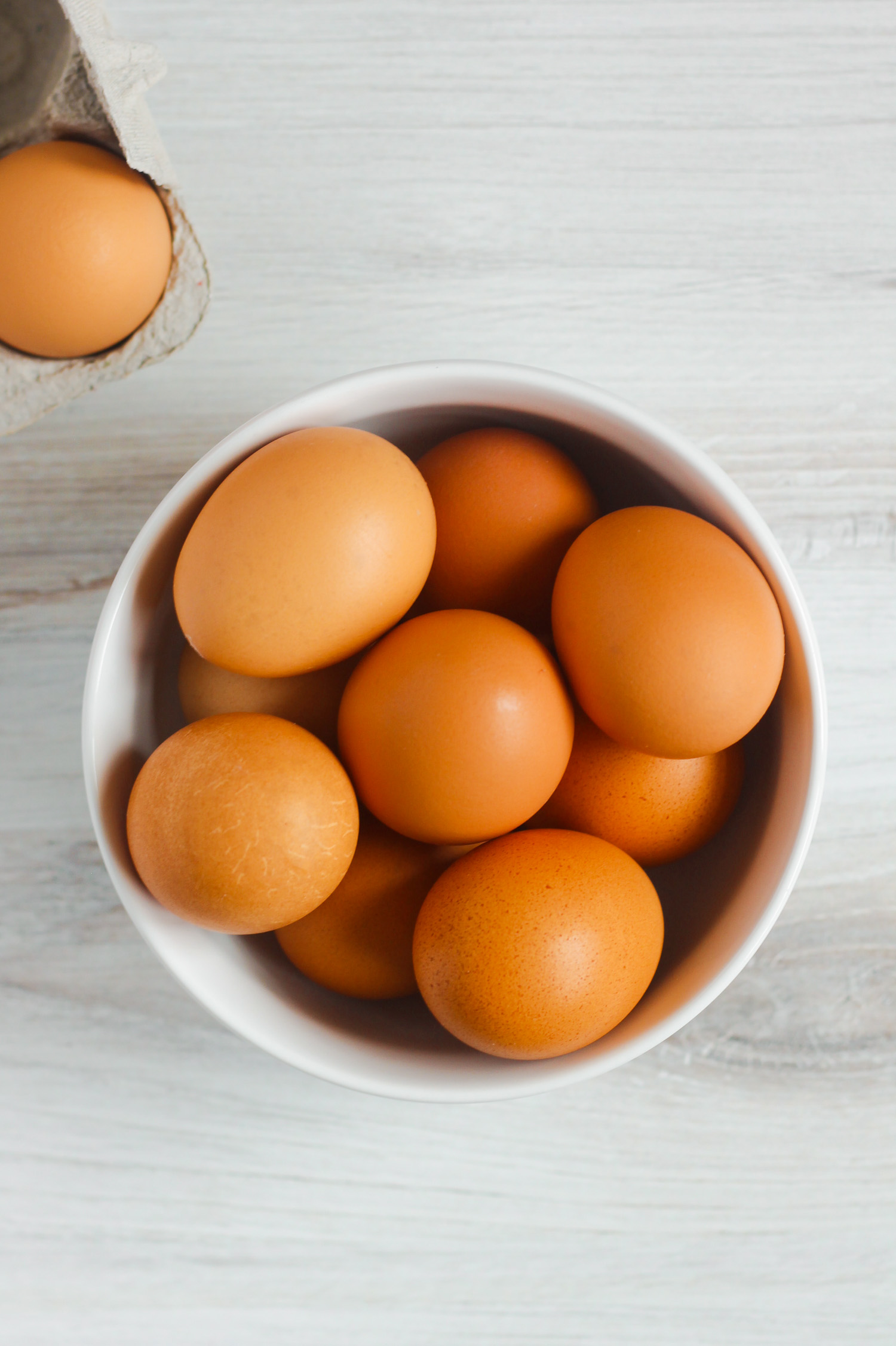 With anything we consume, I want to make sure I am feeding my family the healthiest version possible. And with anything that comes from an animal, understanding how the animal was raised is very important for me.
In the past, "organic" was my standard, but as I've learned more about animal welfare, I've learned the term organic is really about the environment (think feed/chemicals on feed), but only very minimally impacts how the animals are raised. Now I'm looking beyond just organic so I know how the animals were treated.
What is a Hen's Natural Habitat?
Let's start with how a hen should live. Hens naturally feed on green plants, seeds, and insects which are found outdoors, in nature! Thus, hens should mainly be outside roaming around on pastures.
Sadly, most are not raised this way. Instead, they live in confined spaces, sometimes too tight to move around, and sometimes never seeing the light of day (insert sad face here!).
In a perfect world I'd have a coop out back with my own lovely hens roaming free, laying eggs for me. But we live on less than a quarter acre lot with houses right on top of each other. Neighbors are great… space for gardens and livestock, not so great. I also live in MN, so access to farmer's markets year round (where I could get fresh eggs) isn't an option either. Next best thing is store bought. But good news... there are good store bought eggs out there if you know how to read the label.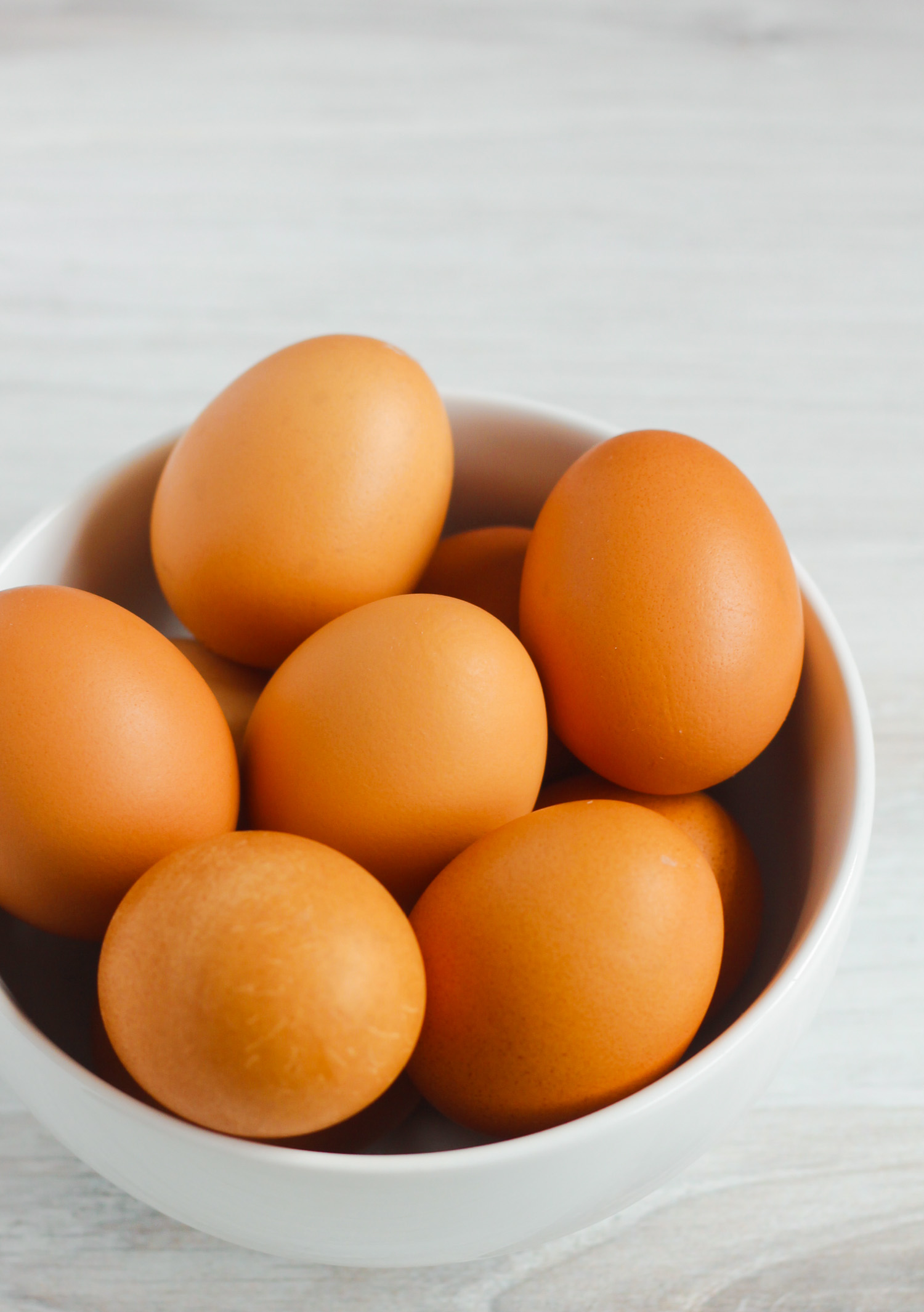 So, What Do All the Egg Labels Mean?
All the labels on eggs can be very confusing. Here I break down what egg labels mean so that you can make an informed decision on which one you choose to purchase.
Cage Free - unfortunately, this doesn't actually mean much. All "cage-free" means is that the hens weren't kept inside an actual cage. However, they were still kept inside a hen-house in extremely tight quarters with little to no room to move around. These hens do not have access to the outdoors and they are usually fed corn and soy (not good for them or us).
Free-Range - this is slightly better than cage-free, but not much (sorry to say). According to the USDA, free-range (also cage-free) hens need to have access to the outdoors (even if it's a fenced in and/or covered area). The key word here is "access". Just because these hens have access, doesn't mean they are actually getting outside the hen-house/barn. Hens tend to stay where their food is and if the food is inside, they may never actually go outside.
Organic - organic really isn't that much better in terms of how the hens were raised. Organic simply means that no antibiotics or hormones were used (hormones aren't allowed in hens, so all eggs are hormone-free) and that they were fed organic feed. By definition, they are free-range, but again, this just means they have access to the outdoors. At a minimum, you know they weren't given antibiotics and were fed organic feed.
Pasture-Raised - now we're talking! Imagine a hen walking freely in pastures, access to the outdoors, living her best life as nature intended. They look for food on their own in the great outdoors and return to their coop at night for a good night's slumber. This is pasture-raised. Happy little hens all around.
But wait...there is ONE caveat to the term "pasture-raised". Unless, ALSO certified humane, you can't guarantee how much the hens were actually given access to roam freely on a pasture. The term "pasture-raised" by itself is not regulated. So, when you see a carton of eggs labeled as "pasture-raised", I recommend also looking for a certification stating the hens were raised humanely.
Which Certification is Best for Eggs?
As mentioned above, sadly not all pasture-raised eggs are created equal. But good for us, many egg companies choose to get additional certifications so we know how the hens were treated (thank you to these companies).
In my opinion, the best certification to look for is Certified Humane Raised and Handled®. Humane Farm Animal Care (HFAC) is a non-profit certification organization whose goal is to improve the lives of animals through the Certified Humane® Raised and Handled® program.
Anyone with this certification undergoes a third party verification that ensures farmers meet the Humane Farm Animal Care's (HFAC) standards. Think large pastures, no antibiotics, year round access to the outdoors, and a minimum requirement for time spent outside.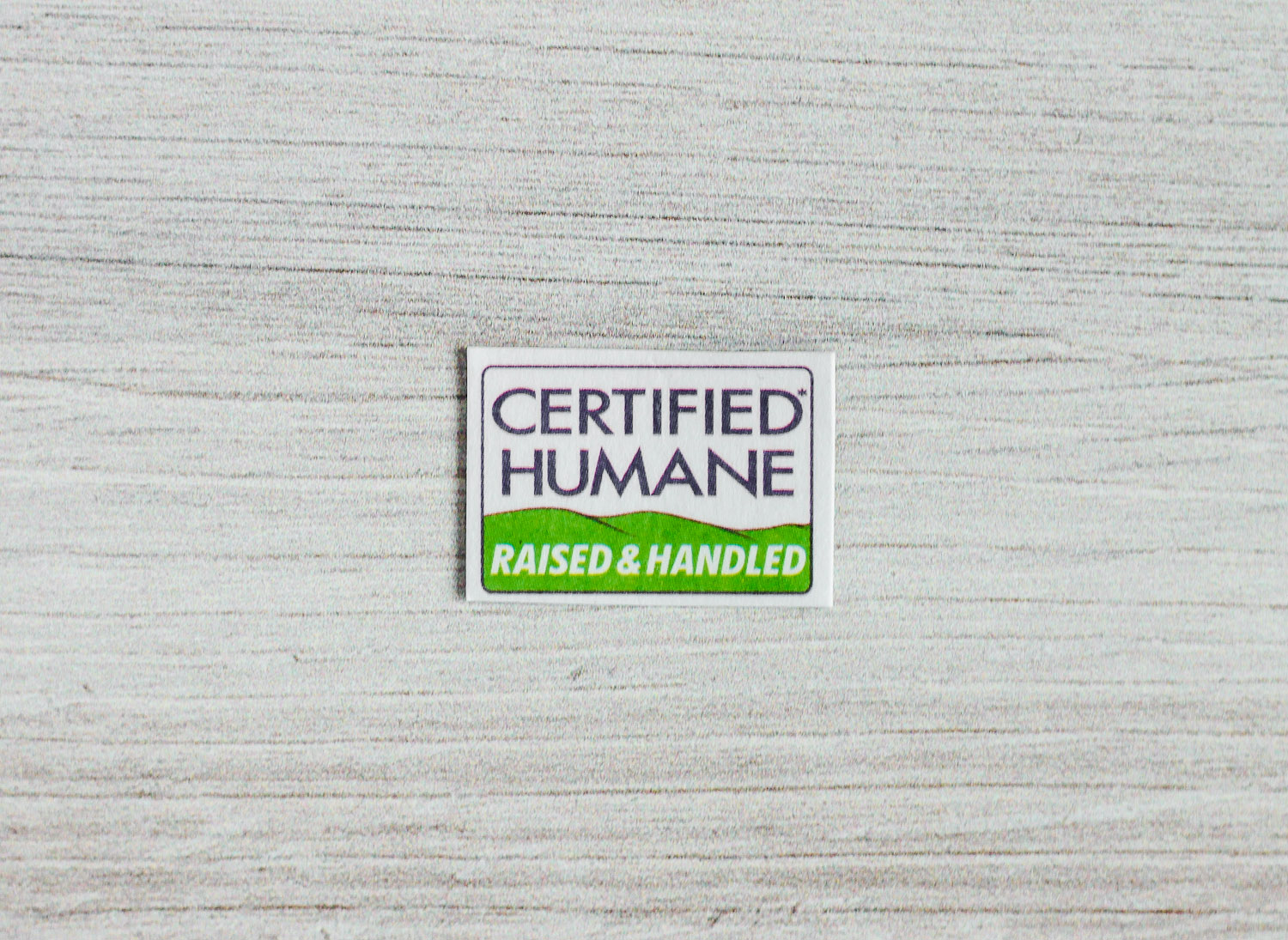 Are Pasture-Raised Eggs More Nutritious?
Yes. There are many sources stating that pasture-raised eggs contain more nutrients. It makes sense that an egg's nutrients would be based on what the hen ate. And pasture-raised hens go around eating what they were meant to eat; seeds, insects, and grasses.
They have more vitamin A, E, and D. They have considerably more beta-carotene (a cancer-fighting antioxidant), and double omega-3s. Now we're talking!
With pasture-raised eggs you can feel good about how the hens were treated and the quality of your eggs.
Take a look for yourself. The picture below shows one egg from a pasture raised hen and one mass-produced/conventional egg. Can you guess which is which? The pasture-raised egg is a much deeper, more colorful orange, meaning it has better nutritional quality.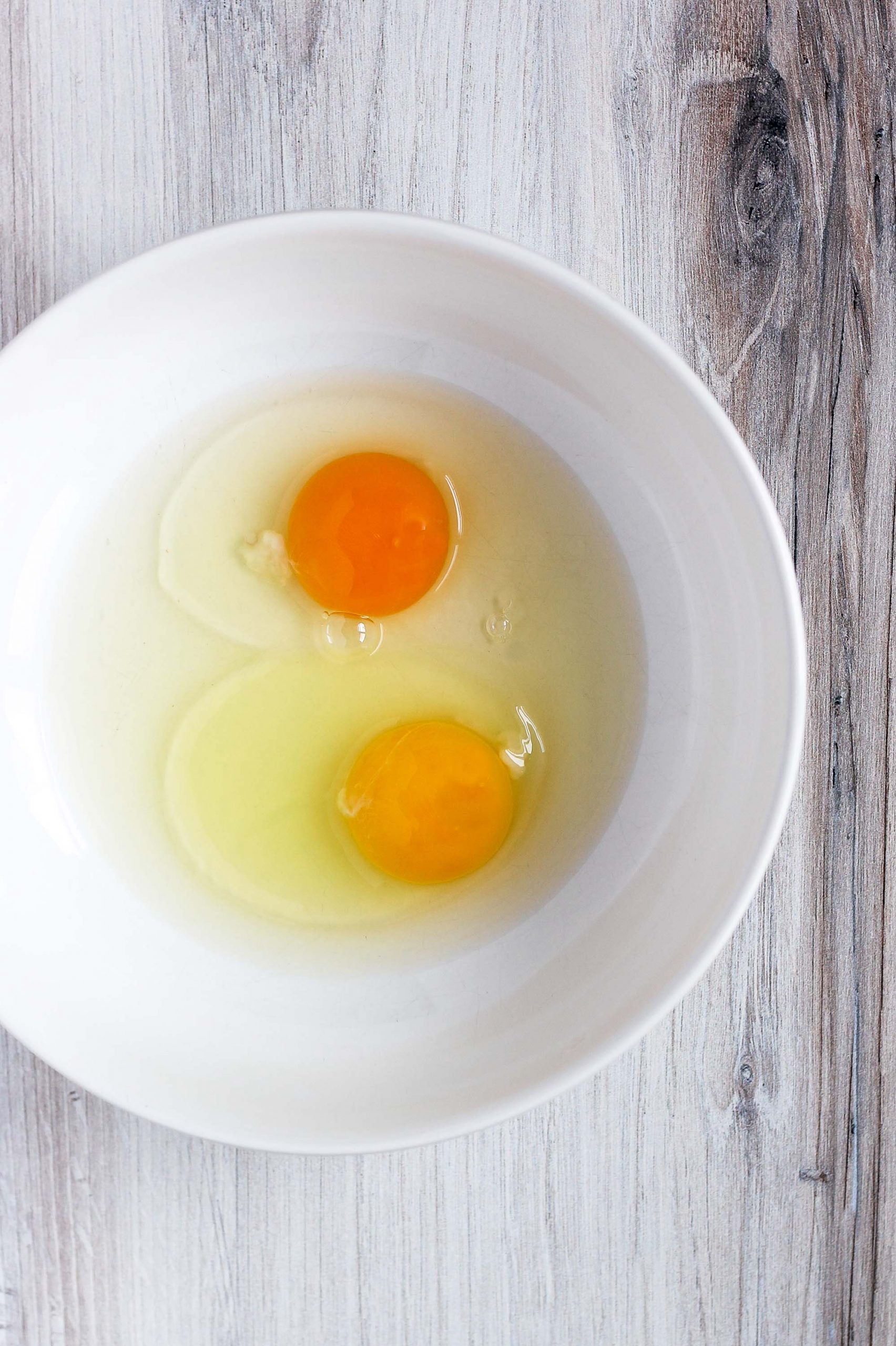 What Does All This Mean When You're Shopping for Eggs?
First, get familiar with the terms and understand what they mean. And then make a decision on which is most important to you so you are armed with the right information before buying.
For me, most importantly I look for the eggs that say "pasture-raised" and have also been certified humane.
Now that I've got you thinking about eggs, be sure to check out my easy Dairy-free Frittata.
And Please comment below and let me know what you think about this egg buying guide and reading egg labels. I'd love to hear from you!
Eat Clean.Be Healthy!
-Sara
Resources:
https://certifiedhumane.org/survey-reveals-consumer-demands-certified-humane-foods-shaping-new-future-farm-animals/
ttps://certifiedhumane.org/wp-content/uploads/2014/05/Laying-Hen-Comparison-Chart.-1-1-14.pdf
https://certifiedhumane.org/article-explains-difference-pasture-raised-free-range-eggs/
https://certifiedhumane.org/how-we-work/frequently-asked-questions/#1
https://draxe.com/health/egg-carton-claims-decoded/
https://www.drweil.com/diet-nutrition/food-safety/are-pastured-eggs-better/
https://www.popsugar.com/fitness/Pasture-Raised-Eggs-Healthier-42126513