These gluten-free banana muffins are light, fluffy, and bursting with banana flavor. Easy to make and naturally sweetened too!
If you know me, you know I'm a huge fan of muffins. They are pretty much an option for any meal of the day, and are great for making in large batches and freezing. These muffins start out with just the right blend of gluten-free flours and oats to create the perfect gluten-free texture. They are lightly sweetened with pure maple syrup and bananas, so the sugar content is low compared to the other guys… WHOOP!
This recipe was adapted from a previous banana muffin recipe I had (before I went gluten-free), but in all honestly, these are way better. I even throw in some chocolate chips from time-to-time since my 6 year old is pretty much obsessed with anything that has chocolate on, or in, it. So, what are you waiting for!? Get these beauties in the oven and give them a try… you will be in love!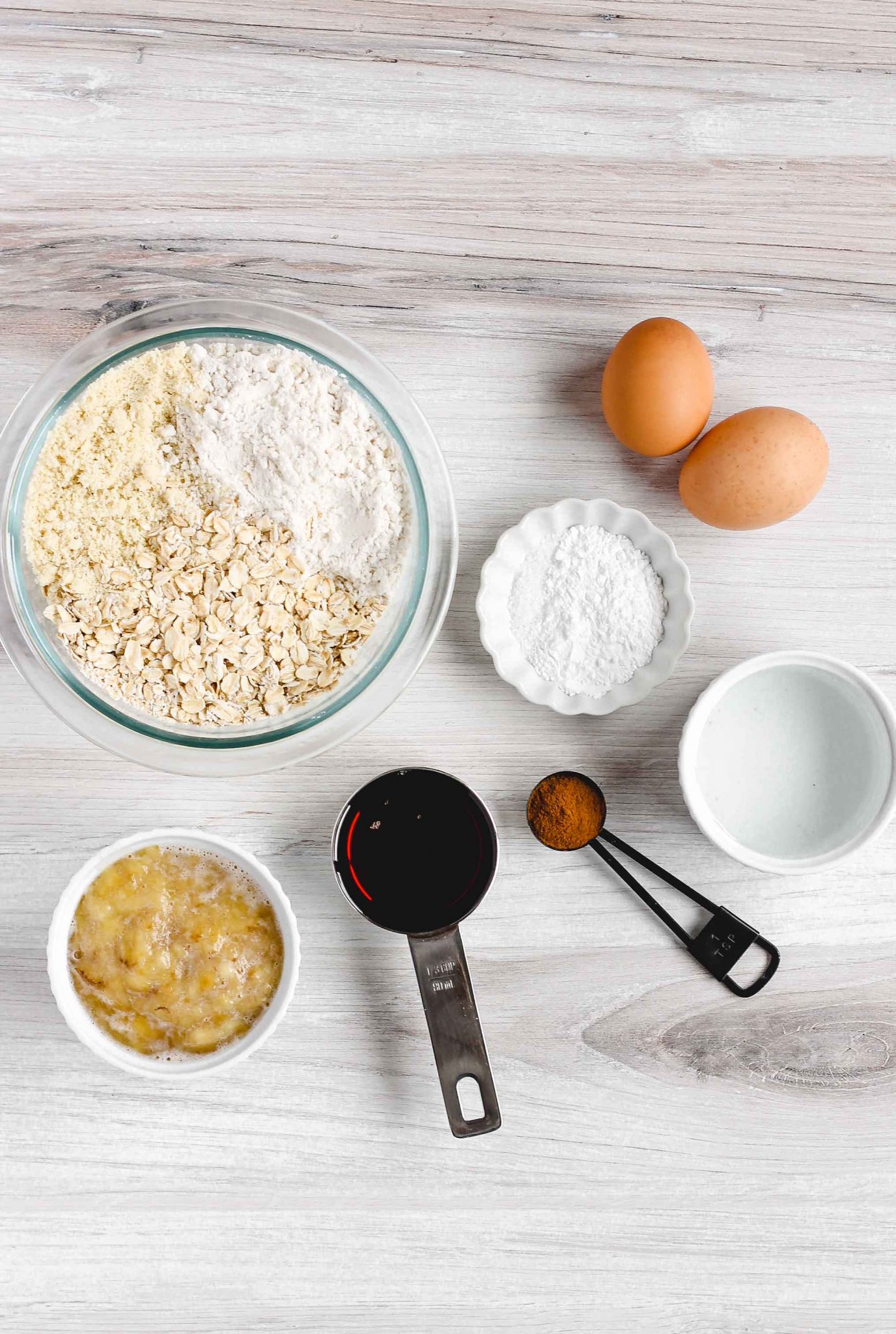 Ingredients for Gluten-Free Banana Muffins
Gluten-free flour + almond flour + oats – You'll need a gluten-free flour blend, almond flour, and oats. I like the combination of flours as it helps with the overall texture of the muffins.
Cinnamon – Of course there is cinnamon! You can't have a banana muffin recipe without cinnamon.
Baking Powder + Salt – Helps gluten-free breads to rise and creates a nice, fluffy texture.
Bananas – Duh, it's a banana muffin! Three mashed ripe bananas is what you will need. I typically use previously frozen bananas. They tend to be sweeter, which provides more flavor, and help add a little bit of liquid to the recipe. If you don't have frozen bananas, extra ripe bananas straight from the counter will work too.
Coconut Oil – Fats add moisture to quick breads. Be sure to use a clean coconut oil. Typically unrefined are cleaner, but some refined are okay too. Find our more

HERE

.
Eggs – Help with binding the ingredients. As always, I recommend pasture-raised/certified humane. Find out more

HERE

.
Pure Maple Syrup – A little bit goes a long way. One-third cup is all you'll need. A little bit of syrup, plus the bananas, provides all the sweetness you will need. And most importantly, this keeps these gluten-free banana muffins 100% refined sugar-free.
Gluten-free Flour Blends
In a lot of my gluten-free baking, I use a store-bought gluten-free flour blend. Let me start by saying that not all gluten-free flour blends are created equal. And pending the one you use, you may end up with a slightly different texture to these gluten-free banana muffins. I always find they still tastes delicious, but the texture could be a little more dense, "gummy", or even dry.
My Favorite Gluten-free Flour Blends
I have found that Namaste Organic Gluten-free Perfect Flour Blend and flour farm work the best. In addition, they are both organic.
Why is organic so important? These flour blends (as are most gluten-free blends if not paleo) are made with brown rice flours. And organic equals fewer toxins and pesticides. Rice crops are high in pesticides, so I like to be extra cautious with items containing rice flours.
What's the Deal with Xanthan Gum
Most gluten-free flour blends contain xanthan gum. Xanthan gum is a food additive that is used in baked goods to add structure. It is actually man-made, so it is not natural/a real food. Generally deemed safe, it's still not a real food and takes away from some gluten-free flour blends being 100% real. However, it's typically needed to help in gluten-free baking, so I let it slide (balance, right!?) in the ones that contain xanthan gum.
It fully depends on the recipe and if the xanthan gum is needed, or if you need to adjust other ingredients to make up for the lack of xanthan gum.
The flour farm blend that I love (mentioned above) does not contain xanthan gum. Regarding this specific gluten-free banana muffin recipe, I have used flour blends with and without xanthan gum and they both turn out great.
Storing Gluten-free Banana Muffins
These muffins will stay fresh in an air-tight container for up to 3 days. They are also perfect for freezing! I freeze mine as we like to have them on hand for an easy breakfast, add in to lunch, or even as a snack.
It's great to have these frozen and ready on demand!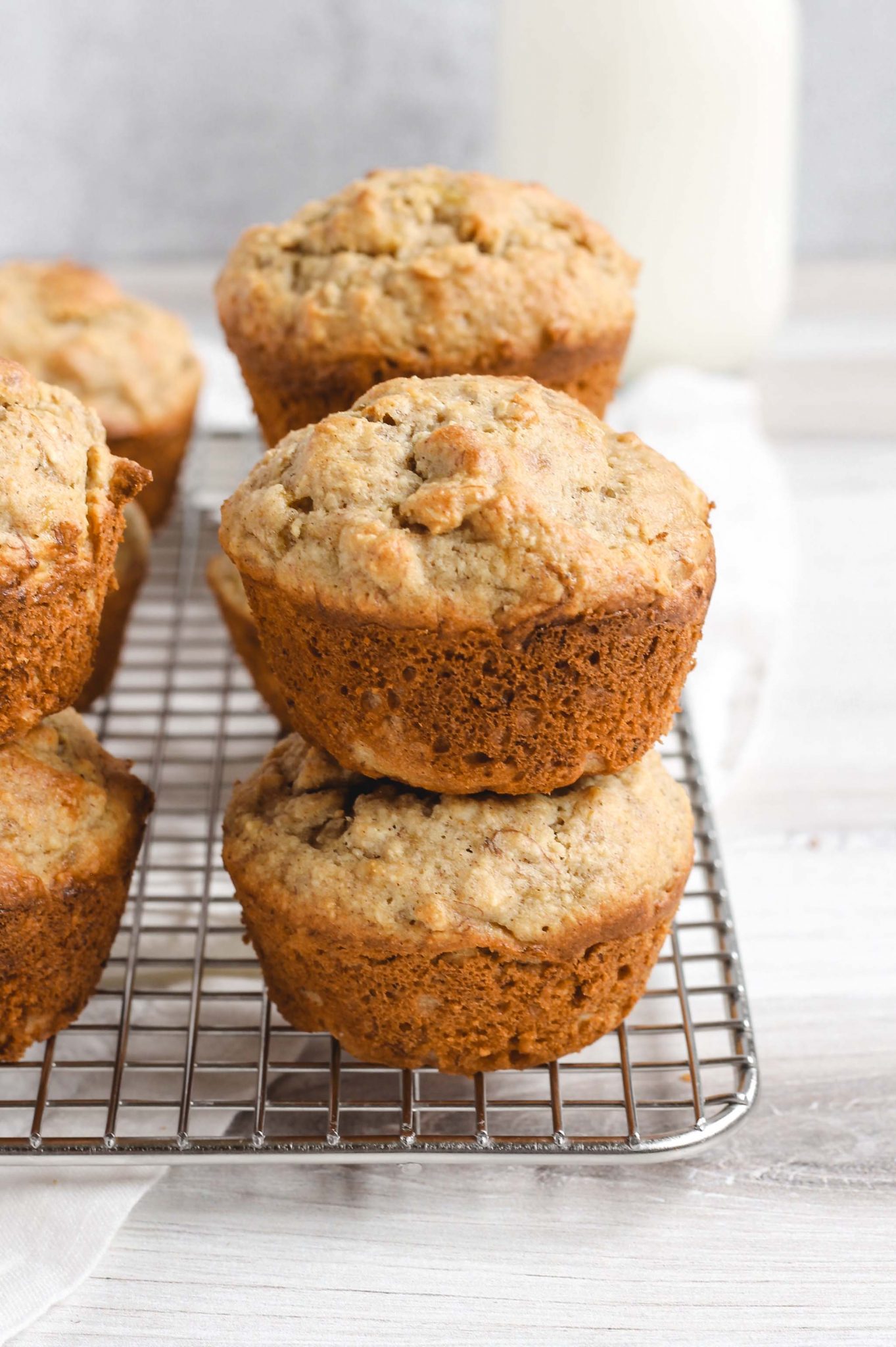 Grab your overripe bananas and get these delicious muffins in the oven. This is the only gluten-free banana muffin recipe you will ever need!
Love Baked Goods As Much As I Do? Check These Out!
Gluten-free Zucchini Bread
Gluten-free Cinnamon Oat Muffins
Gluten-free Pumpkin Chocolate Chip Bread
Gluten-free Pancakes
Chocolate Protein Bread
If you make this gluten-free banana muffin recipe, please let me know what you think! Leave a comment below and/or share a photo on Instagram and mention @CleanPlateMama!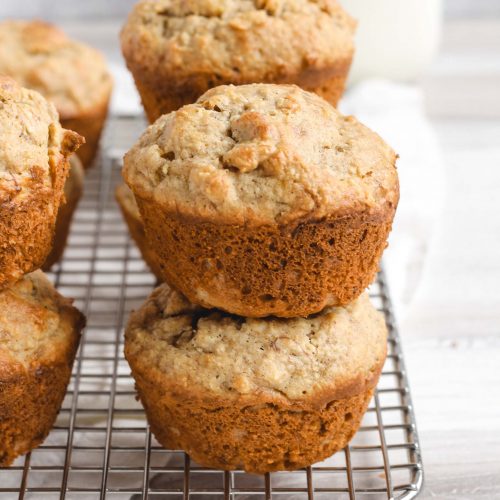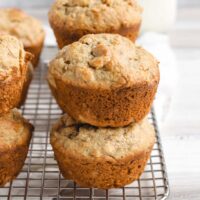 Best Gluten-free Banana Muffins
These gluten-free banana bread muffins are soft, fluffy, full of flavor, and have just the right amount of sweetness.
Print
Pin
Rate
Ingredients
1

cup

almond flour

1

cup

rolled oats

(gluten-free if needed)

¾

cup

gluten-free flour blend

1

tsp.

cinnamon

2

tsp.

baking powder

¼

tsp.

salt

¼

cup

melted coconut oil

2

eggs

lightly beaten

⅓

cup

pure maple syrup

3

very ripe mashed bananas

(I like to use previously frozen as they have more liquid and are sweeter)
Instructions
Lightly grease or line a muffin pan.

In a large bowl, combine almond flour through salt; stir until combined.

Create a well in middle of bowl and add the oil through mashed bananas; mix until just combined.

Evenly scoop mixture into prepared muffin pan.

Bake for 20-22 minutes, or until toothpick entered in center of muffins comes out clean.
Notes
These will stay good for a few days in an airtight container on the counter. Or you can freeze them for later. They are great for freezing!
I recommend using previously frozen bananas. They add additional sweetness and some liquid to the recipe. However, overripe bananas straight from the counter will work just fine. 
This recipe is enough for 12 muffins. However, I usually make 10 muffins so they are slightly larger. Nutrition information is calculated off of 12 muffins. 
Nutrition
Calories:
226
kcal
|
Carbohydrates:
19
g
|
Protein:
9
g
|
Fat:
14
g
|
Saturated Fat:
6
g
|
Cholesterol:
151
mg
|
Sodium:
254
mg
|
Potassium:
100
mg
|
Fiber:
3
g
|
Sugar:
6
g
|
Vitamin A:
219
IU
|
Calcium:
89
mg
|
Iron:
2
mg