This is the best chicken and kale soup recipe! Made with immune-boosting ingredients like fresh garlic, leafy green kale, bone broth, and golden turmeric. This healthy chicken soup comes together quickly in one pot and is so easy to make.
Make sure to get this chicken and kale soup on your list of things to make as we approach cold and flu season. Or get it made now and freeze some for later. Trust me, you'll be glad you did!
I try to keep some of this soup frozen in individual serving sizes throughout the winter so that it's ready whenever healthy chicken soup is needed. There is nothing better than a big bowl of this flavorful nourishing soup on a cold winter day, or if you're feeling under the weather.
Ingredients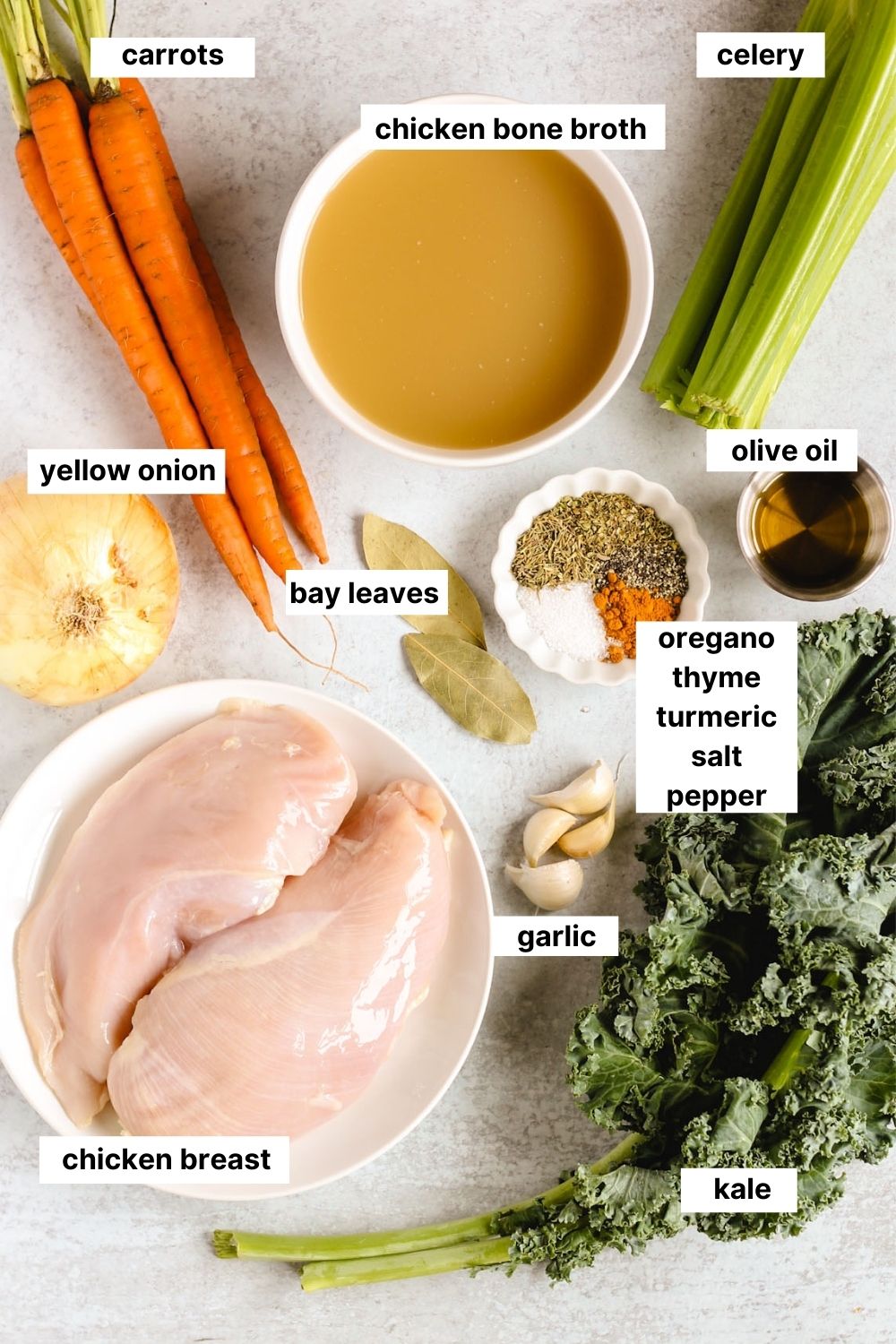 Ingredient Notes & Substitutions
A complete list of ingredients and amounts can be found in the recipe card below. Here are some specific call-outs, and when needed, some tips on keeping the ingredients clean.
CHICKEN BREASTS - I use chicken breasts, but you could use boneless skinless chicken thighs if you prefer.
Clean food tip: Opt for organic chicken if you can. Chicken that's been certified organic has not been given antibiotics and has been fed organic feed. In addition, I like to look for certifications like "Certified Humane Raised and Handled", "Global Animal Partnership" or "Animal Welfare Approved." This ensures quality treatment of the chickens.
CHICKEN BONE BROTH - I like using bone broth for the added health benefits, but you can use any bone broth or stock you'd like.
Clean food tip: Look at the ingredient list! There are some very clean options out there and some not so clean. Some may contain sugar or added flavors, so look for one that contains a short list of ingredients like chicken, vegetables, and spices. Organic is recommended. Some of my go-to's are Pacific Foods, Kettle and Fire, and Bonafide Provisions.
KALE - Curly kale of lacinto kale works best.
VEGGIES: I highly recommend buying organic for the kale and celery. Both of these are on the Environmental Working Groups dirty dozen list (meaning they contain the highest amounts of pesticides).
SPICES: Surprise, surprise, I like organic. Why? The FDA does not require spice manufacturers to label spices with added ingredients, like sugar, salt, colors, or preservatives… so you never know exactly what you are getting with conventional spices… yikes! Certified organic spices have more standards. They don't have anything added, so what you see is what you get. With organic, you can also be sure no chemicals were used in the growing process of the spices.
How to Make It
It takes just a few simple steps to make this easy soup!
CHOP YOUR VEGGIES: Start this healthy chicken soup by chopping up the carrots, onion, celery, and garlic (ya know, the soup staples!).
COOK VEGGIES AND SPICES: Add chopped veggies to a large stock pot or dutch oven. Cook veggies over medium heat until they begin to soften and onions are translucent (about 10 minutes). After the veggies are cooked, add in the spices and cook for an additional 2 minutes, stirring frequently (this helps to bring out the flavor of the spices).
ADD CHICKEN AND BROTH TO VEGGIES: Place the chicken breasts on cooked veggies and add bay leaves and broth. Turn to high heat and bring broth to a boil. Reduce heat to medium low and let chicken cook. The chicken cooks in the broth, so no need to cook the chicken separately. This is such a time saver… and it's one less dish to clean!
SHRED COOKED CHICKEN: Once the chicken has cooked, remove the chicken from the soup and shred with two forks. Add shredded chicken back into soup. You could also use a stand mixer or hand held mixer to shred the chicken (yep, you can shred chicken this way)!
ADD THE KALE AND LET SIMMER: Add kale to soup and allow to wilt (you can also remove the bay leaves at this point). The kale will wilt in the warm soup within minutes. Keep at a low simmer until ready to eat.
ENJOY!
Expert Tips
One of my favorite things about soup is that there are so many ways to customize it to your liking, and this chicken kale soup is no exception.
VEGETARIAN: Use vegetable broth instead and add in some white beans and/or cooked noodles in place of the chicken (add these in when you add in the kale).
VEGGIES: Go head and throw in any veggies of your choice. I kept it pretty standard with this recipe, but broccoli, potatoes, mushrooms, or green beans would be yummy, too!
CHICKEN NOODLE SOUP: To make this soup more substantial, add in some of your favorite cooked noodle.
LEMON: Some fresh lemon would be delicious! Try adding some fresh lemon to your bowl, or the entire pot!
FAQs
How long does this soup last after it's cooked?
This soup will stay good in the fridge for 4-5 days and can be frozen for up to 3 months. Perfect for meal-prepping! If you don't already have some, grab some Stasher bags for freezing. They work great and are good for the environment!
What makes this chicken and kale soup healthy?
In addition to the wholesome, nutritious ingredients like turmeric, bone broth, kale, and chicken breasts, this homemade chicken soup is gluten-free and dairy-free!
What's the difference between broth and stock?
They both typically contain mix of vegetables known as mirepoix (a mixture of onions, carrots, and celery) and can be used interchangeably in most recipes.

Stock is made using more of the bones, is typically unseasoned, and thicker than broth (because of the collagen from the bones). Broth is made from more of the meat and seasoned with fresh herbs. Bone broth is also made from bones, but has a much longer cook time than stock and again will have a thicker consistency than regular broth.
More Comforting Recipes For You To Try
If you make this healthy chicken and kale soup, please let me know what you think! Leave a comment below and/or share a photo on Instagram and mention @CleanPlateMama!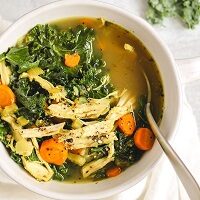 The Best Immune-Boosting Chicken and Kale Soup
The best chicken and kale soup recipe! Made with immune-boosting ingredients like fresh garlic, leafy green kale, bone broth, and golden turmeric. This healthy chicken soup comes together quickly in one pot and is so easy to make.
Print
Pin
Rate
Equipment
1 large stock pot or Dutch oven
Ingredients
1

yellow onion, chopped

4

celery stalks, chopped

5

large carrots, chopped

6

cloves garlic, chopped

2

tbsp.

extra-virgin olive oil

1-2

tsp.

turmeric

(see notes)

2

tsp.

dried oregano

1

tsp.

dried thyme

1

tsp.

salt

(more to taste)

½

tsp.

ground pepper

(more to taste)

1-1 ½

lbs.

chicken breasts

(see notes)

2

bay leaves

8

cups

chicken bone broth

(stock or regular broth works too)

4

cups

curly kale or lacinto kale, stems removed

(I prefer curly kale for this soup)
Instructions
Heat a large stock pot (or Dutch oven) over medium high heat. Add onion, celery, carrots, garlic, and olive oil. Cook veggies until they begin to soften and onions are translucent (about 10 minutes).

Add the turmeric, oregano, thyme, salt, and pepper, and cook for an additional minute or two, stirring frequently.

Add uncooked chicken breasts and bay leaves on top of veggies. Pour broth over veggies and chicken, ensuring chicken is fully covered by the broth.

Bring to a boil and then reduce heat to medium low and keep at a simmer (uncovered). Simmer for 20-30 minutes, or until chicken is cooked through and easily shreds with a fork.

Remove cooked chicken from pot and place on a cutting board. Using two forks, shred chicken.

Add shredded chicken back to pot. Add kale and continue to cook until kale is wilted (about two minutes). Keep at a low simmer until you're ready to eat (you can remove the bay leaves at this point).
Notes
Start with a minimum of 1 tsp. of turmeric. Taste soup after chicken has fully cooked and if the flavor isn't too much, add another ½ - 1 tsp. more. Turmeric has a strong flavor, so start small and add more to taste. 
I usually opt for closer to 1 ½ lbs of chicken for this recipe, as I like it very hearty. But if you have less than that, it will still turn out great.
If your chicken breasts are on the larger side, cut them in half to speed up the cooking time. 
Add additional salt, pepper, oregano, or thyme to taste after chicken is shredded and added back to soup. 
This can be stored in an air-tight container in the fridge for up to 5 days or in the freezer for up to 3 months. 
Nutrition
Calories:
291
kcal
|
Carbohydrates:
18
g
|
Protein:
34
g
|
Fat:
11
g
|
Saturated Fat:
2
g
|
Polyunsaturated Fat:
2
g
|
Monounsaturated Fat:
5
g
|
Trans Fat:
1
g
|
Cholesterol:
73
mg
|
Sodium:
601
mg
|
Potassium:
1182
mg
|
Fiber:
3
g
|
Sugar:
4
g
|
Vitamin A:
13078
IU
|
Vitamin C:
61
mg
|
Calcium:
171
mg
|
Iron:
4
mg