These easy chili stuffed sweet potatoes are perfect for a weeknight dinner. Paleo inspired, but many ways to customize.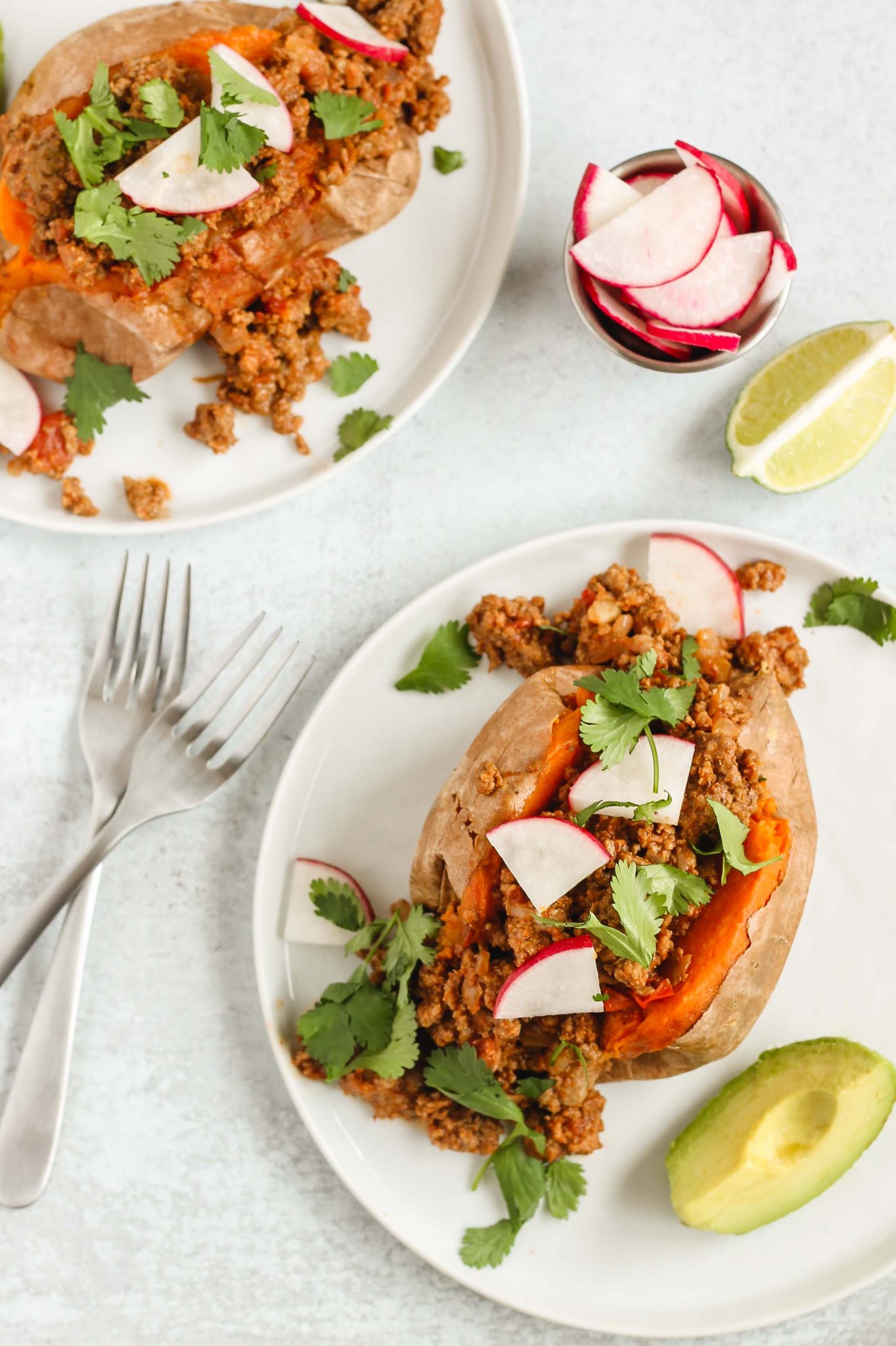 When I meal prep, there is always some sort of southwestern inspired meal in the weekly food plan, like these chili stuffed sweet potatoes or my southwest chicken chili. You can never go wrong with anything that requires chili powder, cilantro, avocado, and sour cream (non-dairy if that's your thing, like me).
Sweet Potatoes vs. Yams
Did you know that most potatoes labeled as yams are really sweet potatoes? A yam is actually a white, starchier potato with brown, bark-like skin. Probably not what you're used to seeing!
Most sweet potatoes have orange skin and bright orange or red/orange flesh (what you're probably used to seeing labeled as a yam). Most commonly they are orange, but they can also be purple or white.
I'll spare you the boring details, but essentially eons ago there was an attempt to clarify the difference between root vegetables, and sweet potatoes were labeled as yams… failed attempt! So, what you are probably used to buying labeled as a yam is actually a sweet potato. Fun fact for the day… you're welcome!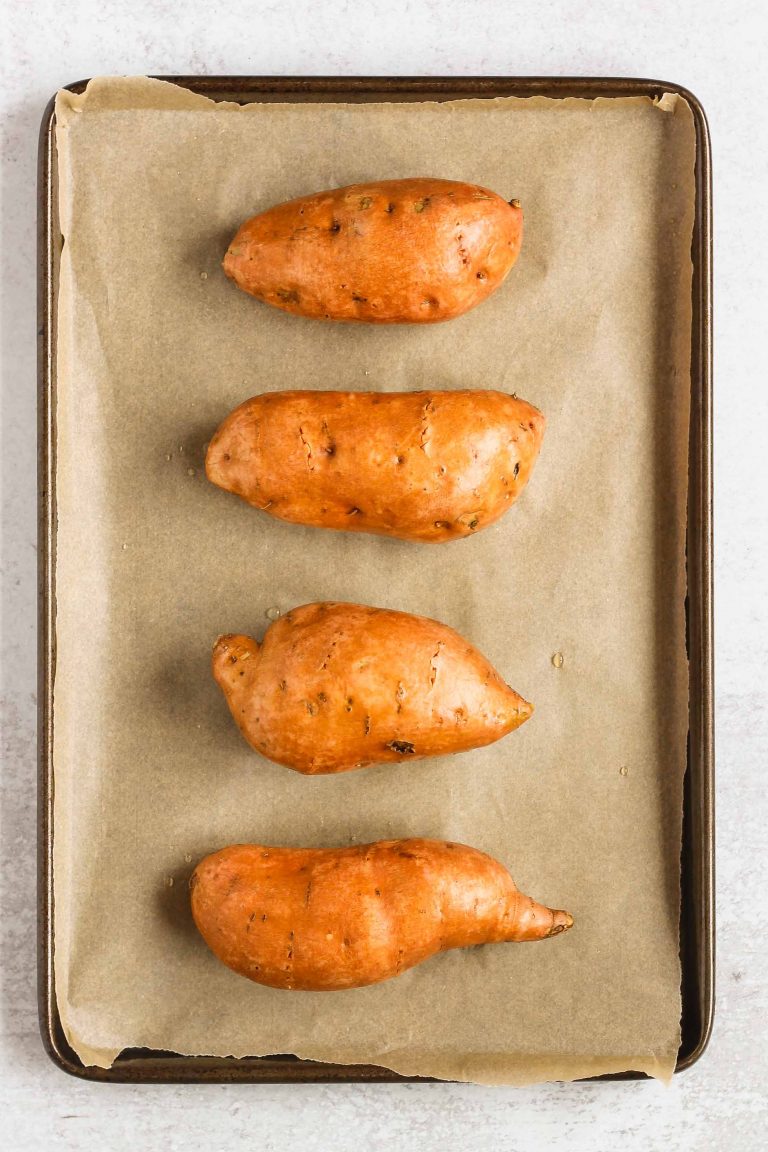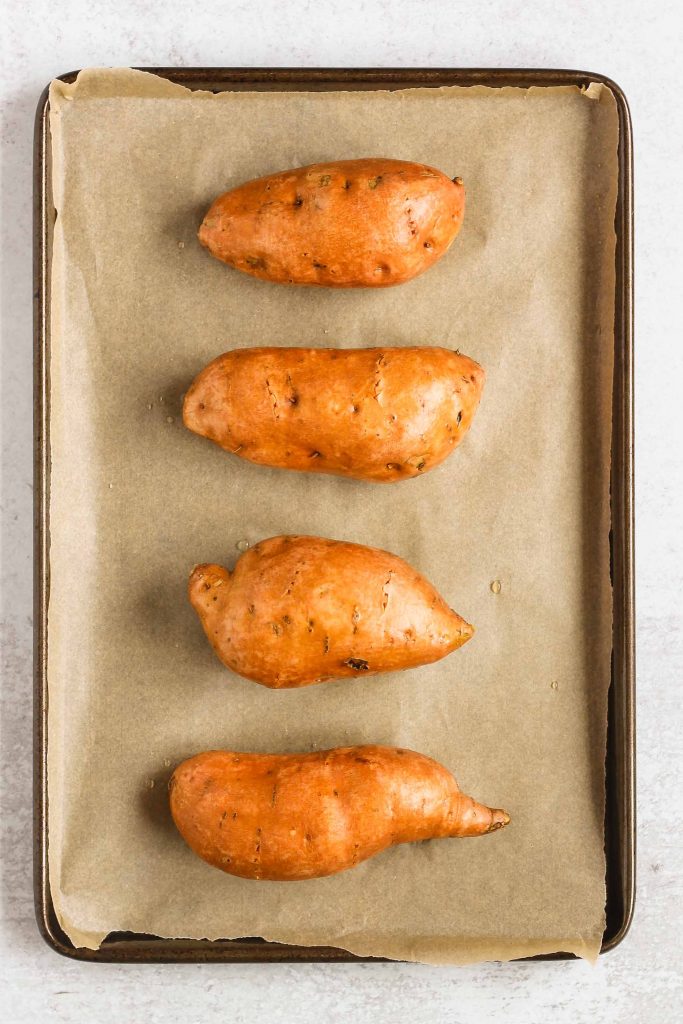 The Perfect Potato for Stuffed Sweet Potatoes
I have read there are upwards of 25 varieties of sweet potatoes; most of which you'll probably never come across in your life. At most grocery stores you will find garnet, jewel, purple, and Hannah (white).
I recommend jewel yams/sweet potatoes for baking. These are typically shorter and fatter, which is perfect for a whole, baked sweet potato. Plus these are the ones you typically find at common grocery stores. However, any sweet potato works as long as they are a good shape for a baked potato (the more round the better).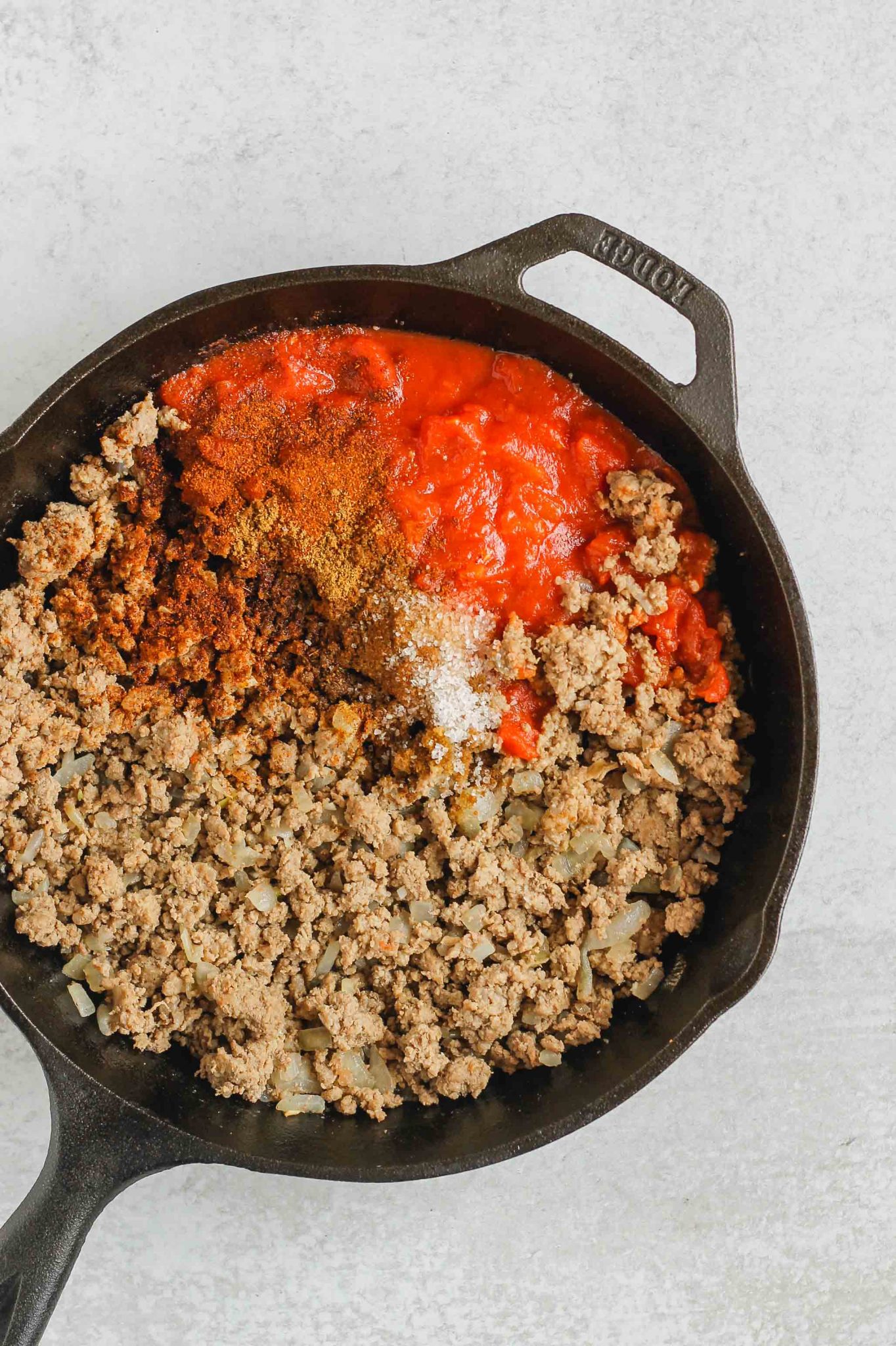 The Directions
These are such an easy weeknight meal! Making these are so simple.
Preheat oven to 425. Clean sweet potatoes and pierce each potato with a fork 4-5 times to allow steam to escape while cooking. Bake potatoes for 45-60 minutes, or until a knife or fork can easily be pierced through entire potato.
While sweet potatoes are cooking, cook your ground beef and onion until no longer pink.
Add canned tomatoes and spices to ground beef. Keep on low heat until potatoes are ready.
Once potatoes are cooked through, slice open and stuff with ground beef mixture. Top with desired toppings.
Serve and enjoy!
Told you they were simple!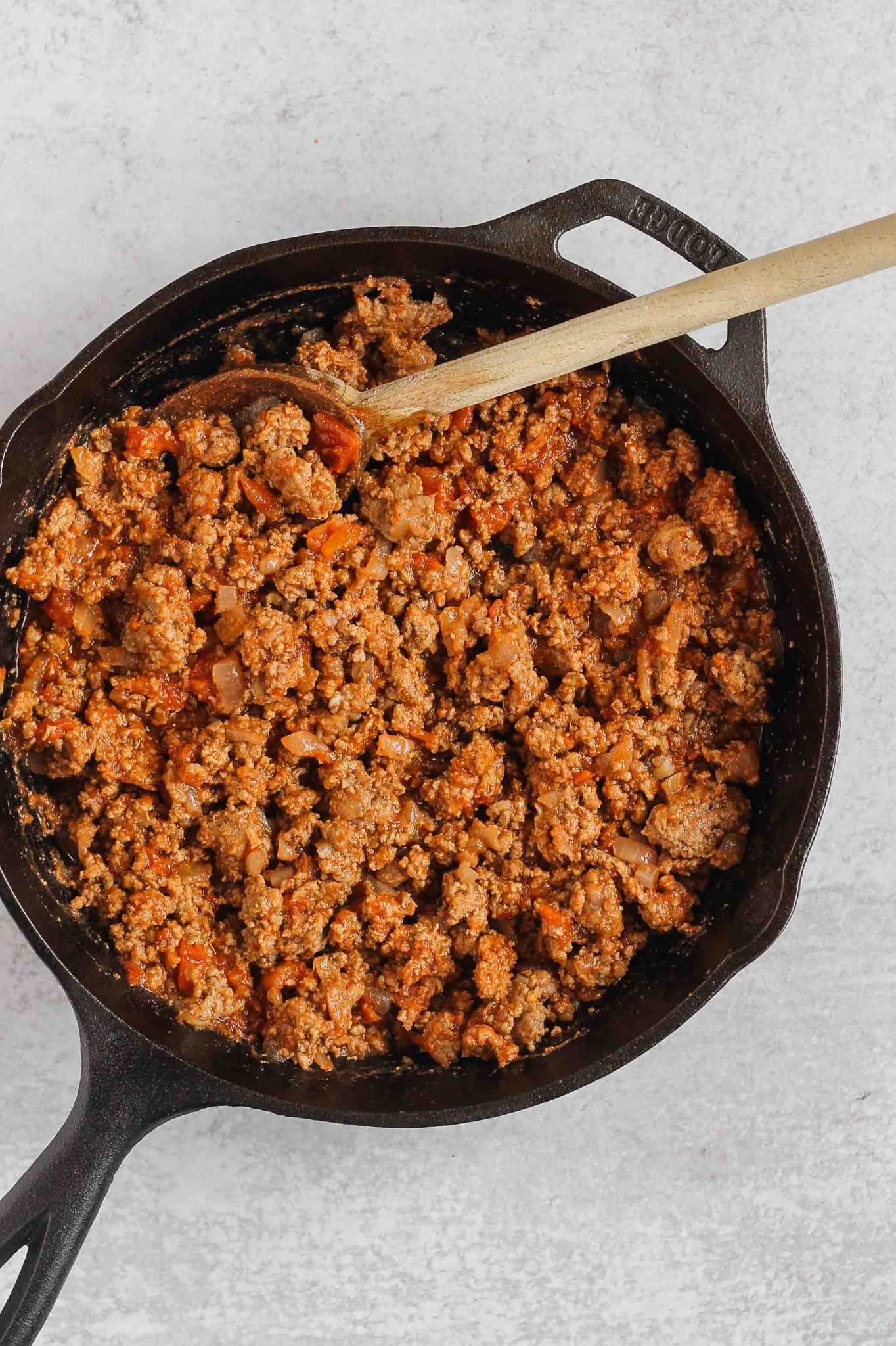 The Ingredients and How to Keep Them Clean
Sweet Potatoes – high in fiber, vitamin C, vitamin A, and many other vitamins and minerals. They get their orange color from beta-carotene, which is an antioxidant.
Sweet potatoes are typically grown with less pesticides than regular white potatoes, so conventional are okay to buy. I recommend organic if you can, but no need to be too concerned if you are buying non-organic sweet potatoes.
Ground beef – the "stuffing" is made up of mostly ground beef. In order to buy the cleanest/healthiest ground beef, look for 100% grass-fed or grass-finished ground beef. Luckily, this can be found at most grocery stores and is only marginally more expensive than conventional ground beef.
Yellow onion – onions are typically on the Environmental Working Group's (EWG) clean fifteen, so go ahead and buy conventional!
Canned tomatoes – when buying canned tomatoes, make sure you are reading the ingredient list. Most canned tomatoes contain unnatural preservatives, like calcium chloride, and could also contain added sugars. My go-to for canned tomatoes is Organico Bello. Their canned tomatoes contain JUST tomatoes! Plus they are organic and come in BPA-free cans.
You can find Organico Bello canned tomatoes at Whole Foods. But there are others that only contain tomatoes-just read the lable. And if you aren't able to find any that only contain tomatoes, don't sweat it!
Spices – simple, southwestern inspired spices are used to give the chili a well-rounded flavor!
To ensure you are getting the highest quality, best flavor, and purest form of the spices, I recommend organic. In addition, like most produce, herbs and spices are contaminated with chemicals, so best to keep those out of your kitchen as much as possible.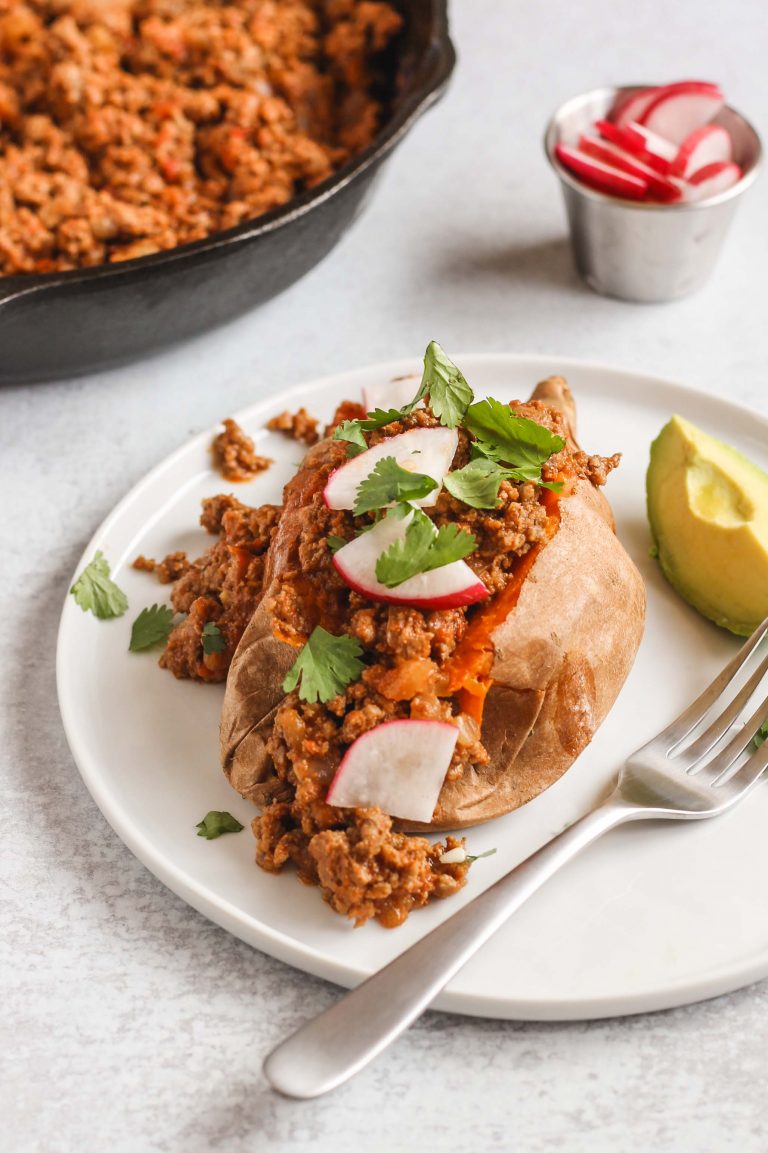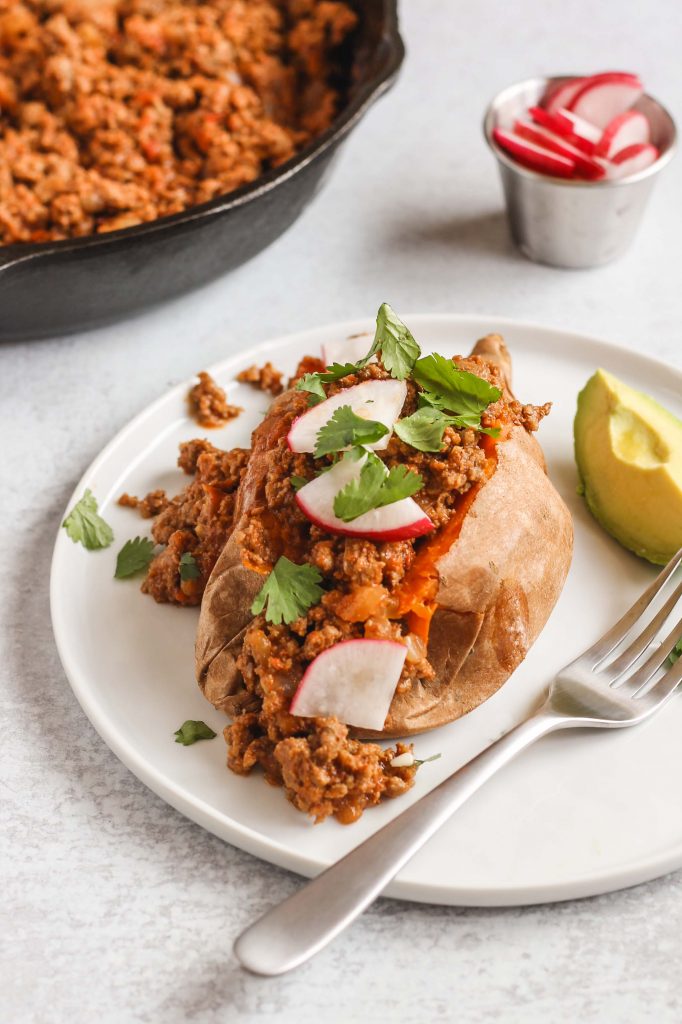 Toppings
Go ahead and top these beauties with anything you'd like! My go-to toppings for these are:
-Cilantro
-Sour cream (I used almond-milk Greek yogurt since I'm dairy-free)
-Sliced radishes
-Avocado or Guacamole
-Green onion
-A squeeze of fresh lime juice
Substitutions and Add-Ins
Vegan? No problem, replace the ground beef with some cooked quinoa and black beans.
Not paleo? Add some black beans to your ground beef.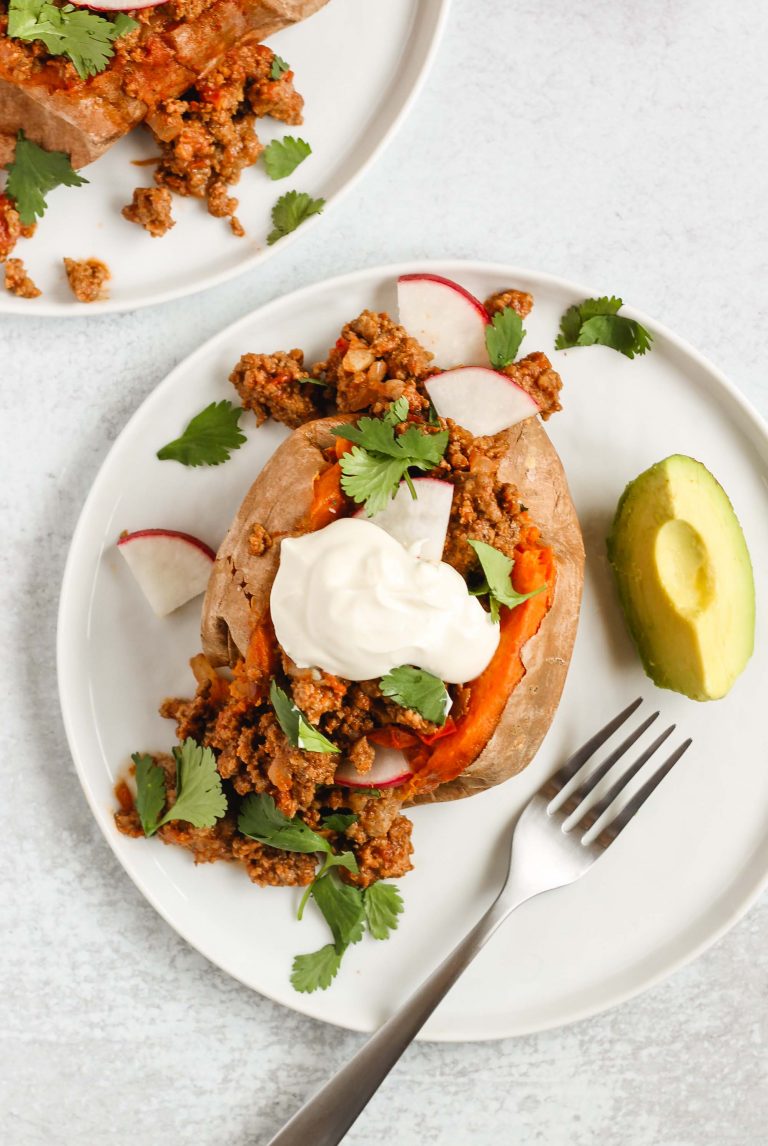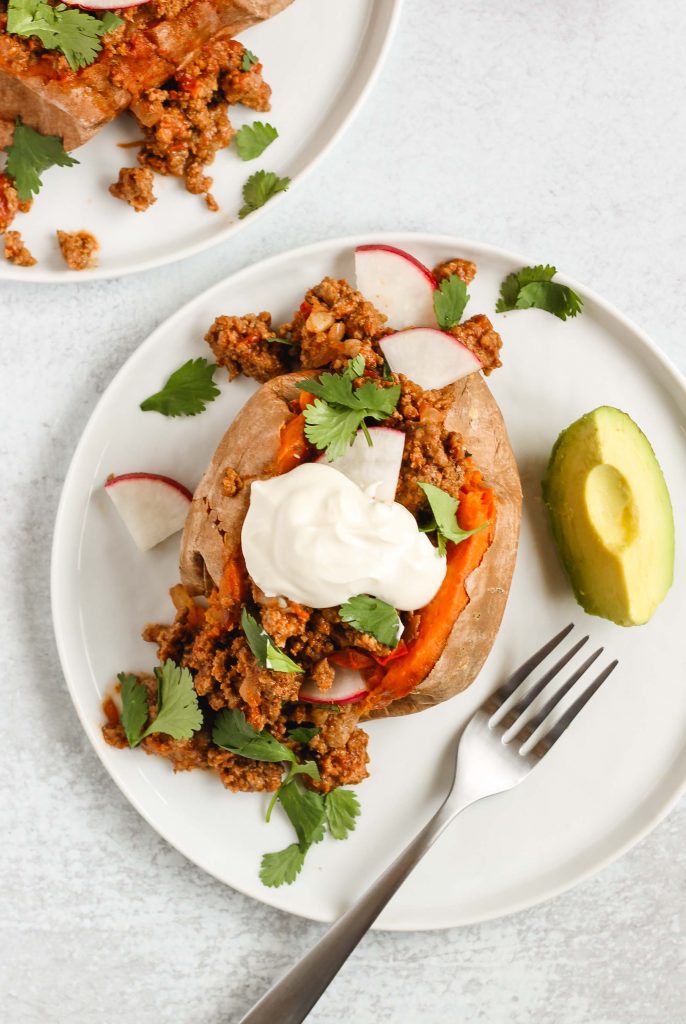 How to Store Chili Stuffed Sweet Potatoes
Leftovers can easily be stored in an airtight container in the fridge for up to 4 days. Store any leftover toppings separately so you can re-heat the potatoes and chili separate from the toppings.
To make it easier, you can store the potatoes and chili stuffing together and re-heat all together. They can be re-heated in the microwave or oven at 350 until heated (recommend slicing up potato prior to reheating to allow for even heating).
More Dinner Recipes I Think You Might Like
Easy Baked Chicken Fajita Bowls
Cashew Chicken Salad
Creamy Roasted Red Pepper Pasta (vegan)
Did you make this chili stuffed sweet potato recipe? Please let me know what you think! Leave a comment below, give me a star rating, and/or share a photo on Instagram or Facebook and mention @CleanPlateMama.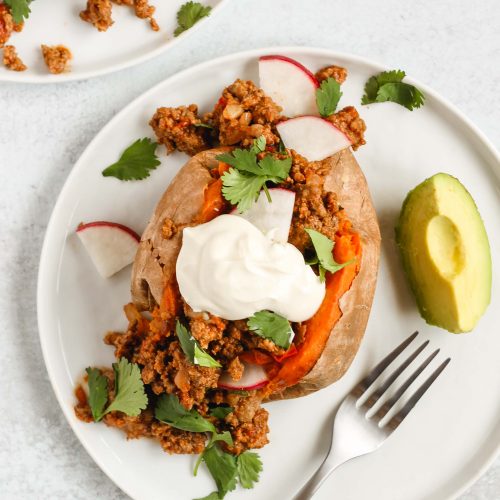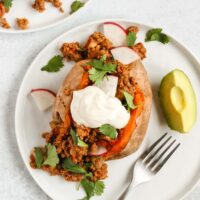 Chili Stuffed Sweet Potatoes (paleo)
These easy chili stuffed sweet potatoes are perfect for a weeknight dinner. Real food, filling, delicious!
Print
Pin
Rate
Ingredients
4

medium sweet potatoes

1

lb.

ground beef

½

yellow onion, chopped

1

clove garlic, chopped

2

tsp.

chili powder

1

tsp.

ground cumin

½

tsp.

salt

1

can

chopped/diced tomatoes
Instructions
Preheat oven to 425 and line a baking sheet with parchment paper.

Wash sweet potatoes and pierce each potato with a fork 4-5 times (this allows steam to escape while baking). Place potatoes on prepared baking sheet and bake for 45-60 minutes, or until you can easily pierce the potatoes all the way through with a fork. The size of your potatoes will determine the exact baking time.

While the sweet potatoes are baking, prepare the chili. Add the ground beef, onion, and garlic to a medium-size skillet. Break up ground beef and mix with onion and garlic. Cook over medium-high heat until the ground beef is fully cooked and no longer pink. Turn heat to medium-low and stir in the chili powder, cumin, salt, and canned tomatoes. Cook until fully heated. Keep over low heat until potatoes are ready.

Take your baked sweet potatoes and slice down the middle. Stuff with chili and top with your desired toppings,
Notes
I recommend grass-fed/grass-finished ground beef when possible. 
Try to find sweet potatoes that are roughly the same size; this will help when baking to ensure they all done around the same time. 
Recommended toppings include

guacamole or avocado, cilantro, sour cream (plain almond milk Greek yogurt if you're dairy-free), green onion, and/or radishes. 

For an even easier dinner, cook the sweet potatoes ahead of time so all you need to do is quickly make the chili and re-heat the sweet potatoes. 
Nutrition
Calories:
520
kcal
|
Carbohydrates:
53
g
|
Protein:
25
g
|
Fat:
24
g
|
Saturated Fat:
9
g
|
Cholesterol:
81
mg
|
Sodium:
562
mg
|
Potassium:
1335
mg
|
Fiber:
9
g
|
Sugar:
13
g
|
Vitamin A:
32939
IU
|
Vitamin C:
12
mg
|
Calcium:
132
mg
|
Iron:
6
mg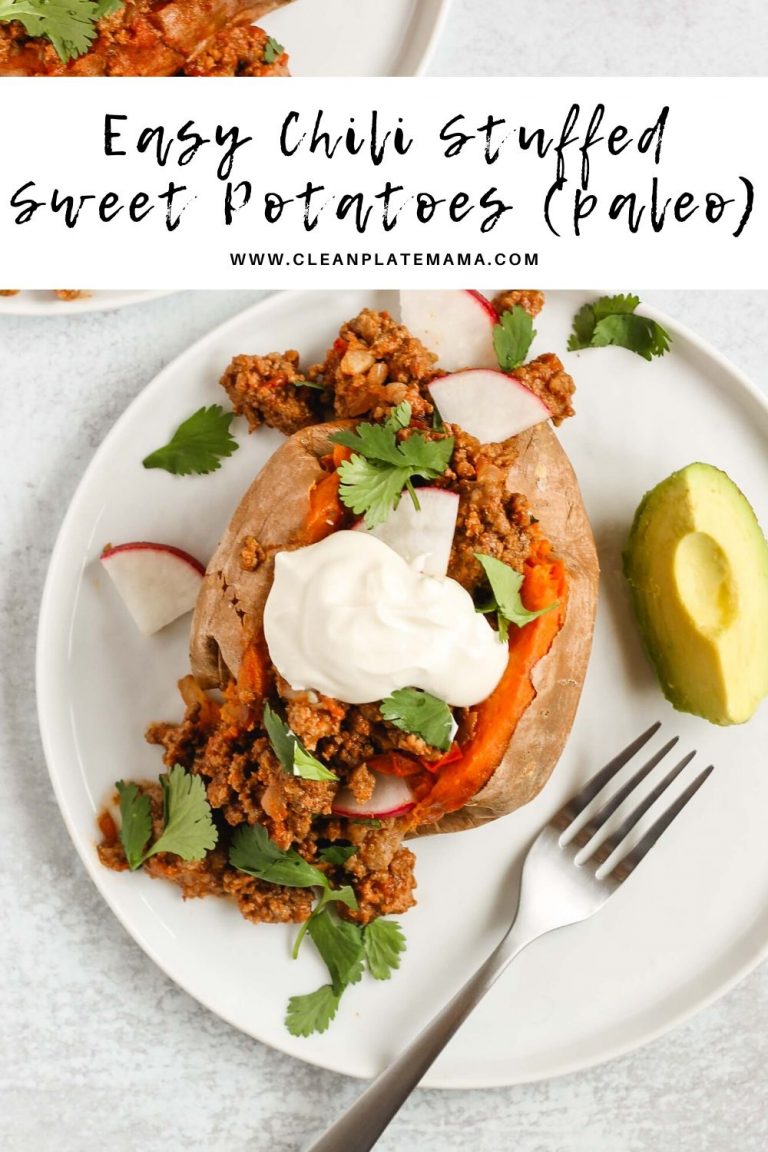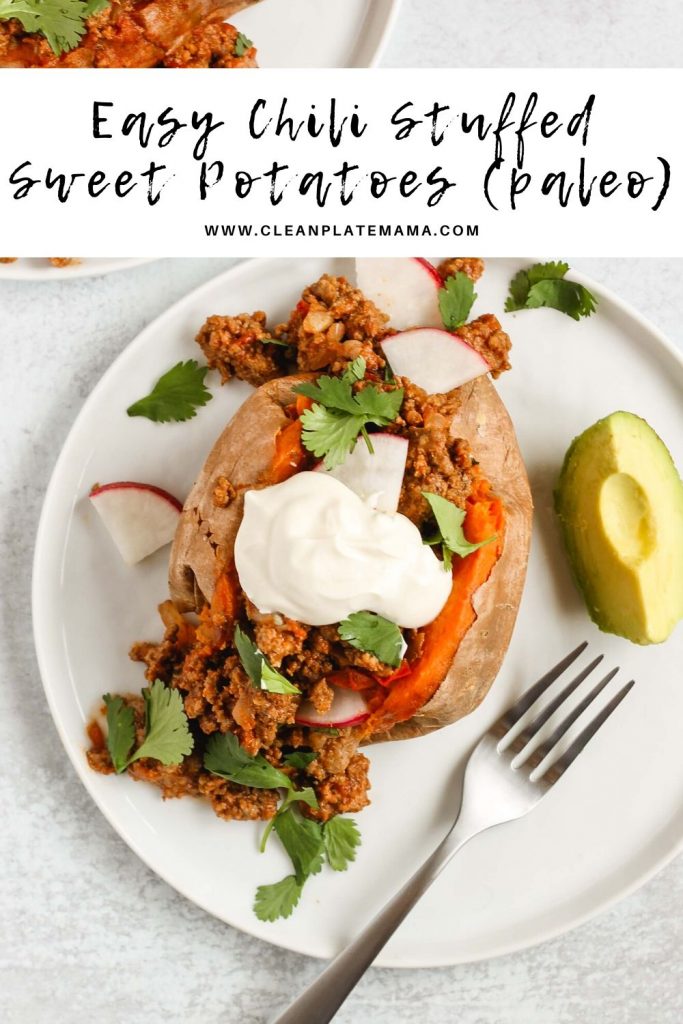 Resources:
https://foodrevolution.org/blog/sweet-potato-health-benefits/