This healthier recipe for scotcheroos uses honey (no corn syrup), coconut sugar, and natural peanut butter. Less of the junk and still irresistibly delicious!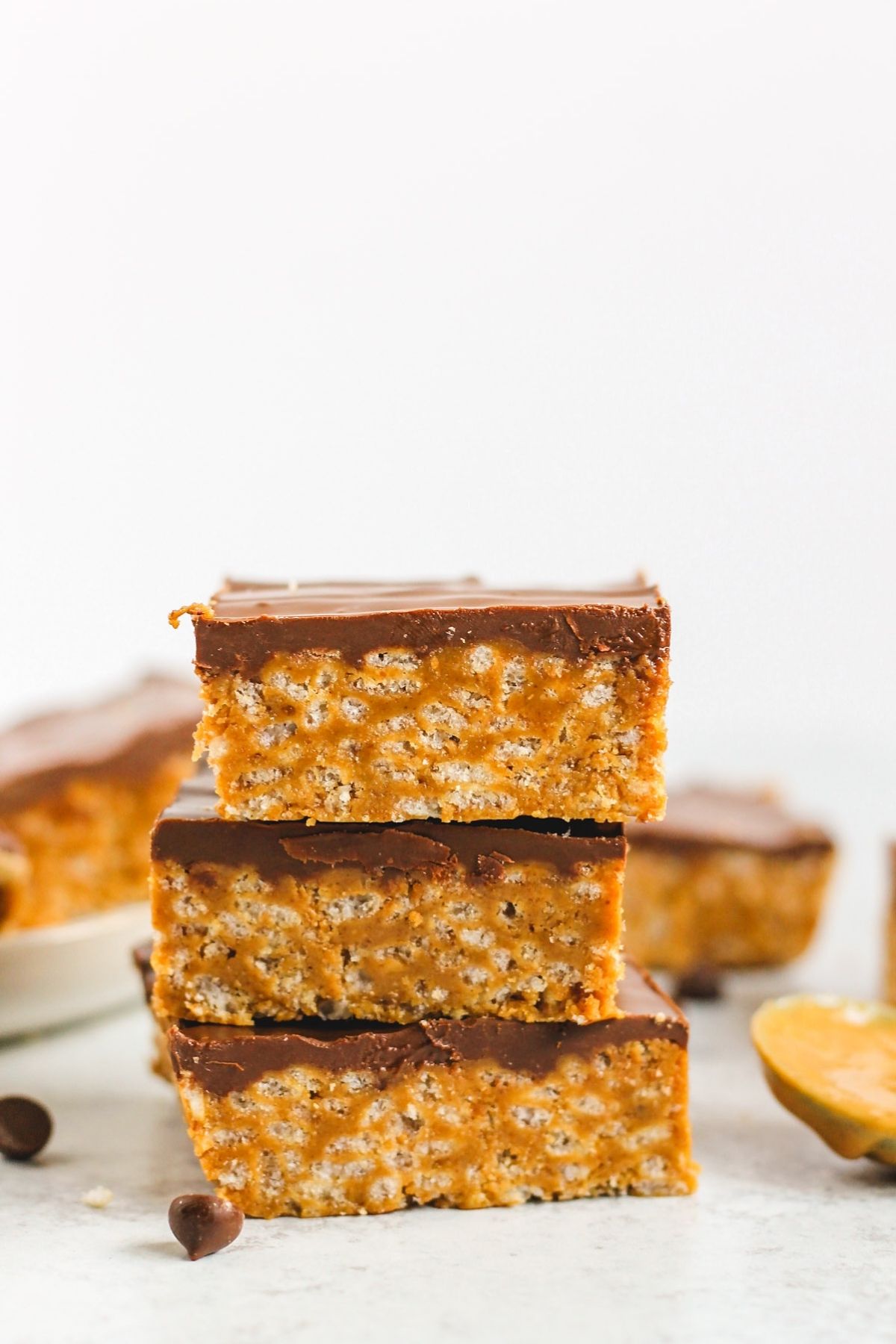 I grew up on the traditional scotcheroo bars. But in my adult obsession with clean & healthy food, I wanted to create a better-for-you recipe that doesn't contain corn syrup and refined sugar.
So, in order for me to indulge in one of my favorite childhood treats, I set out to create a healthier recipe for scotcheroos.
These pretty much show up at every summer event, right alongside my Healthy Broccoli Kale Salad and Southwest Quinoa Salad.
What Are Scotcheroo Bars?
Scotcheroo bars are a no-bake dessert made up of crisp rice cereal (typically Rice Krispies), peanut butter, chocolate, and butterscotch. They are a very popular dessert in the Midwest, and being from Minnesota, we ate these ALL the time growing up!
These are the same as Special K bars, they just use crisp cereal instead of Special K cereal.
Ingredients Needed & Substitutions
You will only need 6 ingredients for this healthy scotcheroo bar recipe.
GLUTEN-FREE BROWN RICE CRISP CEREAL - I skipped the traditional Rice Krispies and used organic gluten-free brown rice crisp cereal instead. Traditional Rice Krispies are made from refined white rice, aren't organic, and contain gluten (the gluten comes from the malt syrup used to sweeten them).
I like using organic to limit any toxins/pesticides from the rice. Both One Degree and Barbaras are good options.
Recipe is written using gluten-free crisps, however, you can use any variation of crisp cereal in these bars (gluten free or not).
PEANUT BUTTER – Skip the Jiff and use natural/healthy peanut butter. Peanut butter should contain just the peanuts (or maybe peanuts and salt). And, due to the high amount of pesticides sprayed on peanuts, I like using organic.
Costco has the BEST organic/natural peanut butter.
HONEY - Used in place of corn syrup and is considered a natural sweetener. I like using raw honey (it goes through less processing, meaning it retains most of the nutrients and antioxidants that honey is known for). That said, regular honey works too!
Because of the stickiness honey provides, I don't recommend using maple syrup. You could try agave, but I can't guarantee the same results as I've never used that.
COCONUT SUGAR -Also called coconut palm sugar. This is considered a natural sweetener and is used instead of white sugar.
You can sub regular white sugar, just know they won't be as "healthy."
SALT - If you're peanut butter doesn't contain salt, you'll need a tiny bit of salt.
CHOCOLATE CHIPS - I use organic, allergy friendly chocolate chips. Either dark chocolate or semi-sweet will work. I like Equal Exchange Organic Chocolate Chips, Nestle Toll House Simple Delicious Chocolate Chips, or Hu Dark Chocolate Gems (if you want to splurge... they aren't cheap, but they are clean!).
If you aren't dairy free, any chocolate chips will work.
How to Make
1. Add the honey and coconut sugar to a small saucepan. Heat the honey and coconut sugar over medium heat until the mixture comes to a low boil and all of the coconut sugar is dissolved.
2. Turn to low and add the peanut butter to the honey and sugar mix. Stir until combined.
3. Place rice crisp cereal in a large bowl and add peanut butter mixture.
4. Stir until brown rice crisps are fully incorporated into the peanut butter (tip: you may need to use your hands).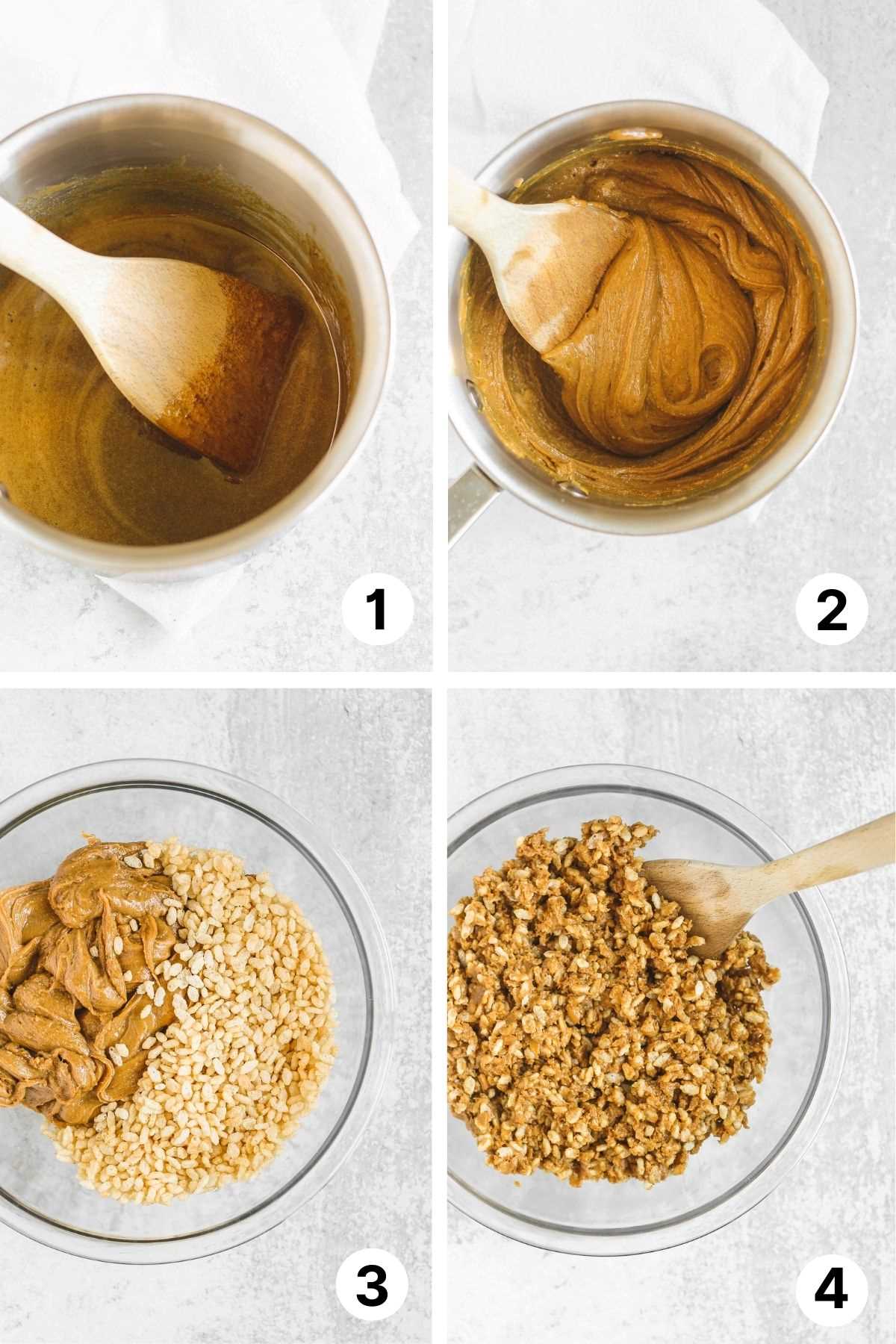 5. Pour mixture into an 8x8 square pan and lightly press mixture into an even layer.
6. In a microwave safe bowl, melt the chocolate chips. Stir chips every 30-45 seconds until melted. Mix some peanut butter into the melted chocolate. Pour chocolate on bars and spread evenly.
Allow chocolate to fully set before cutting into bars. And then enjoy these healthier scotcheroo bars!
Tips for the Best Bars
Don't overcook the peanut butter and coconut sugar. Add peanut butter right after sugar is dissolved.
When pressing the bar mix into your pan, lightly press to create an even layer. If you press the mixture down too hard you will end up with hard/dense bars.
When cutting, wash your knife between cuts. This way you'll end up with clean and even bars.
If desired, you can sprinkle the chocolate (before it has fully set) with some coarse sea salt.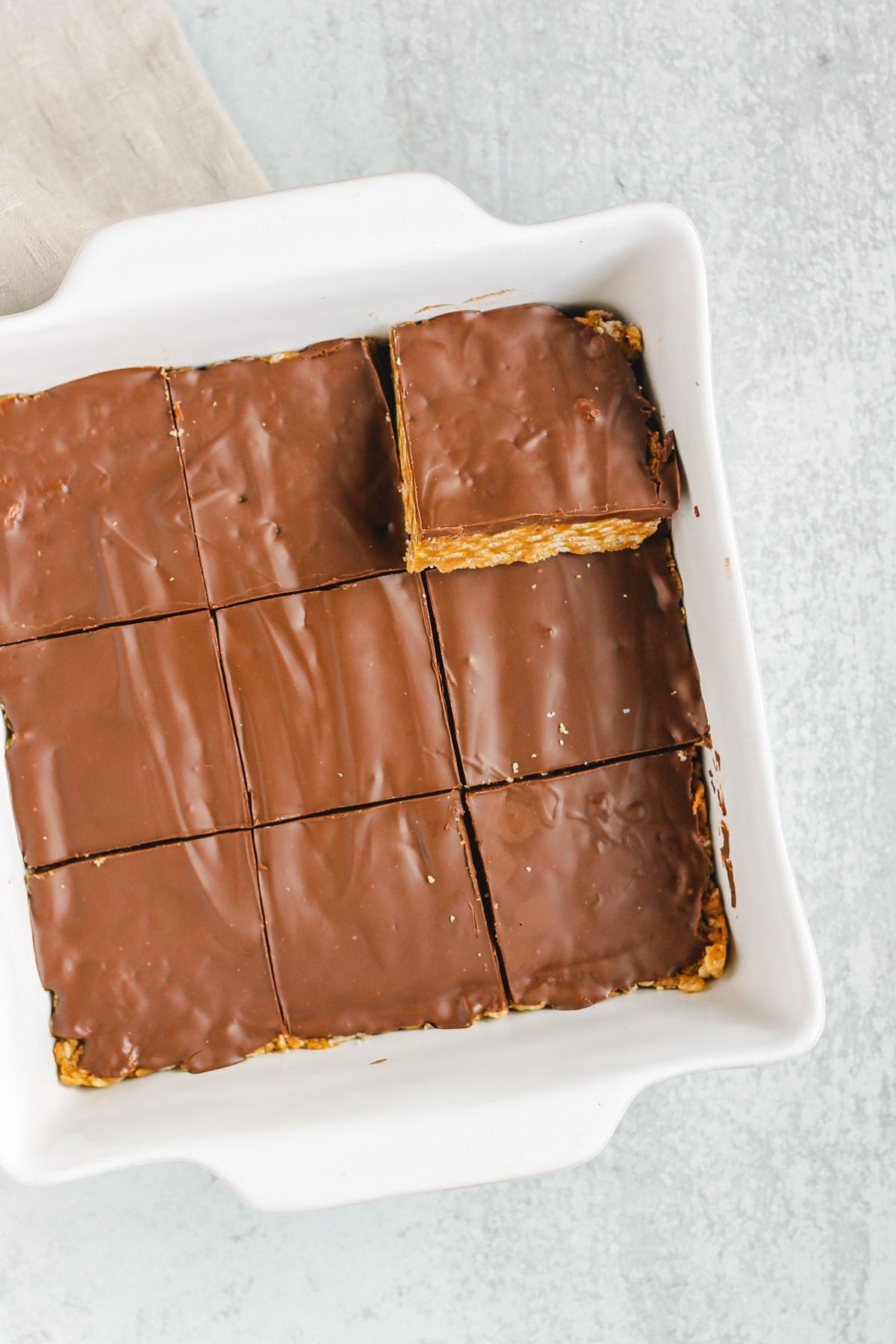 Storing
Leftovers should be stored in an air-tight container. They will stay fresh for 2-3 days at room temperature. You can store them in the fridge to extend shelf life (if they even last that long)!
You can also freeze these. Simply store in a freezer safe container and they will stay good in the freezer for up to 3 months. And they only take a few minutes to thaw at room temp!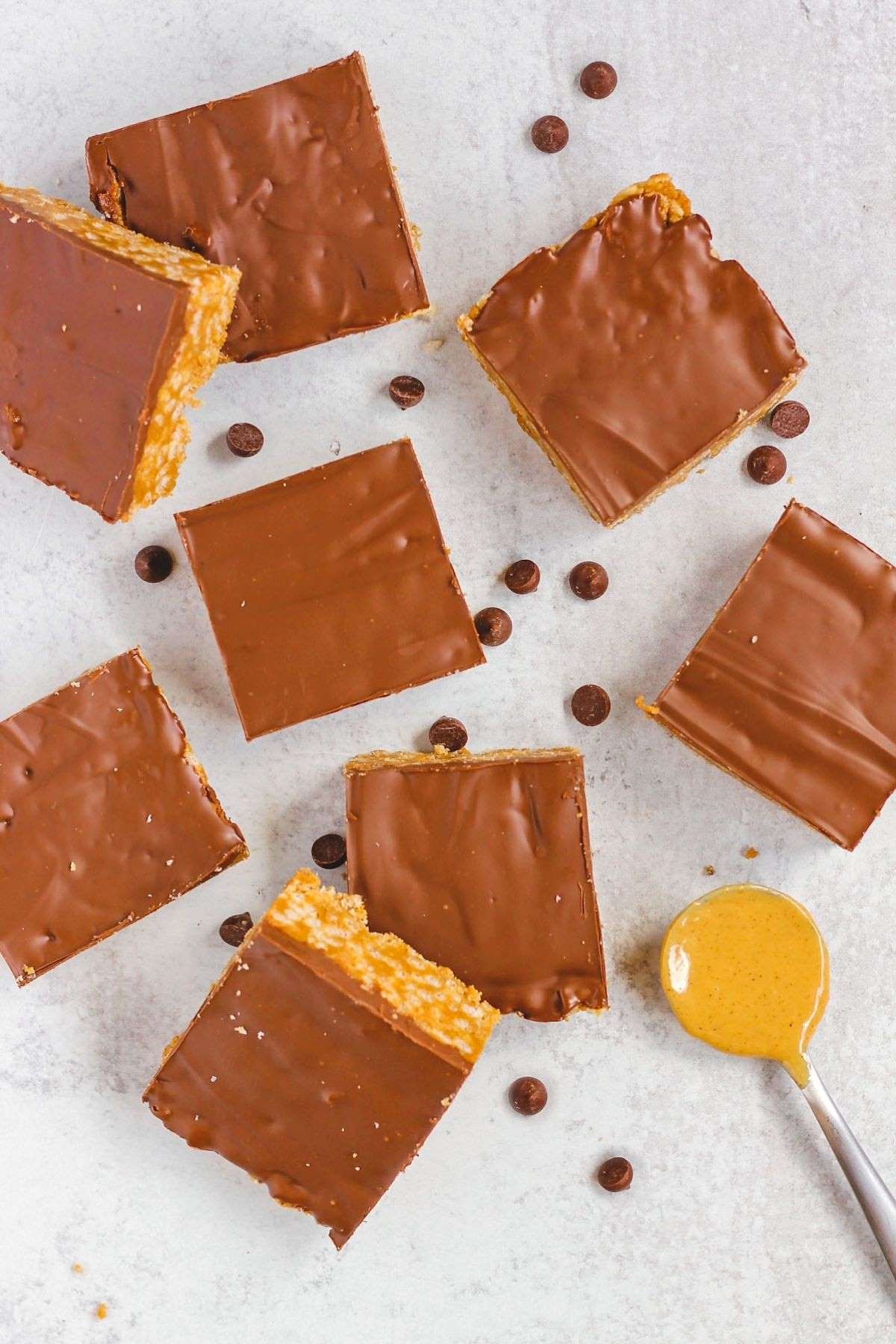 FAQs
Are scotcheroos typically gluten free?
Typically, no. Most rice crisp cereals are made with malt syrup, which contains gluten. If you are needing your scotcheroos to be gluten-free, you need to buy certified gluten-free rice crisp cereal.
What makes these healthy scotcheroos?
These healthier scotheroos are made without corn syrup and are sweetened with natural sugars like honey and coconut sugar. I wouldn't say they are actually "healthy scotcheroos," but they are better for you than the traditional kind.

In addition, I use natural peanut butter (no added unhealthy oils or sugar) and use peanut butter in the chocolate topping as opposed to butterscotch chips (to keep the topping creamy). Butterscotch chips contain artificial flavors, refined sugars, refined oils, and unhealthy preservatives and we don't want that in these bars!

Again, I wouldn't say these are actually healthy (something that nourishes your body), but they are a healthier scotcheroo recipe.
More Better-for-You Desserts
If you make these "healthier" scotcheroo bars, please let me know what you think! Leave a comment and a star rating below and/or share a photo on Instagram and mention @CleanPlateMama.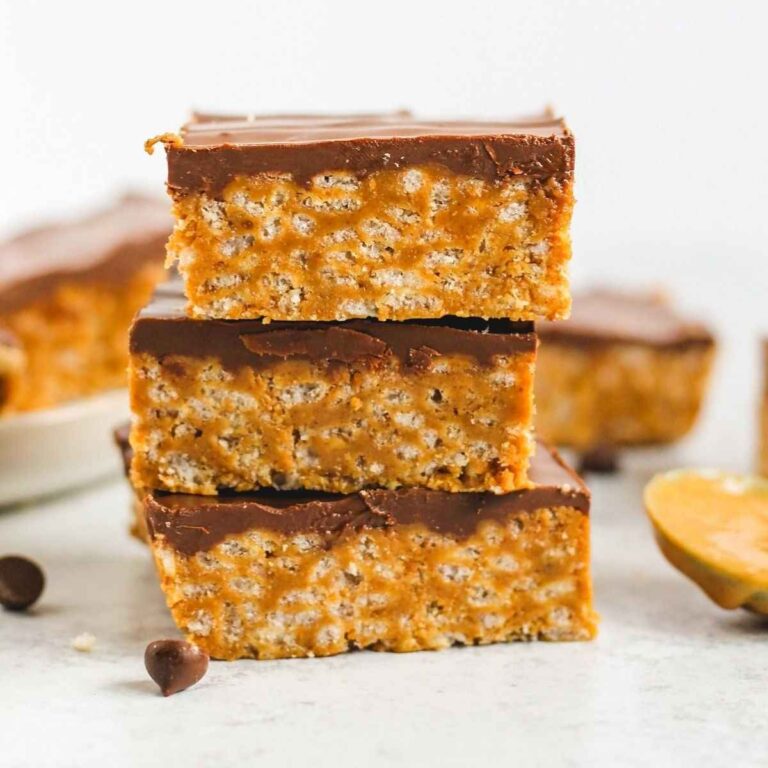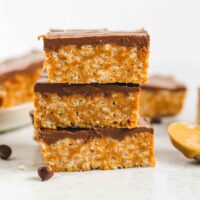 Healthier Scotcheroo Bars (no corn syrup + GF)
This healthier recipe for scotcheroos uses honey (no corn syrup), coconut sugar, and natural peanut butter. Less of the junk and still irresistibly delicious!
Print
Pin
Rate
Ingredients
For the Bars
3

cups

gluten-free brown rice crisps cereal

(if not gluten free, any rice crisp cereal will work)

½

cup

honey

½

cup

+ 2 TBSP coconut sugar

(also called coconut palm sugar)

1

heaping

cup natural peanut butter

⅛

tsp.

sea salt

(only if your peanut butter does not contain salt)
For the Chocolate Topping
1

cup

dairy-free semi-sweet chocolate chips

(if not dairy free, any variation of chocolate chips will work)

½

TBSP

natural peanut butter
Instructions
Prepare to make bars by adding brown rice crisps to a large mixing bowl.

Next, add the honey and coconut sugar to a small sauce pan. Cook over medium heat until the coconut sugar is fully dissolved and small bubbles start to form in the mix; stirring occasionally during this process.

Turn heat to low and add peanut butter and salt (if needed) to honey/sugar and mix until combined and smooth. Note: final peanut butter mix will be thick.

Pour peanut butter mix in bowl with brown rice crisps. Mix until crisps are fully incorporated. If needed, use your hands to mix together.

Lightly press mixture into an 8x8 or 9x9 pan (see notes).

Melt the chocolate chips in a microwave safe bowl or sauce pan. If using the microwave, melt in increments of 30-45 seconds, stirring in between, until melted. If using the stovetop, heat over low heat, stirring frequently until chips are melted. Mix in the 2 TBSP peanut butter to melted chocolate and then spread over bars.

Allow chocolate to fully set before cutting into squares.
Notes
Don't overcook the peanut butter and coconut sugar. Add peanut butter right after sugar is dissolved.
Don't push the peanut butter and crisps mixture too firmly into the pan - if you condense the mixture too much when putting in the pan your bars will be really dense. 
You can double the recipe for a 9x13 pan. 
These can be stored in an airtight container for 2-3 days for optimal freshness. 
Nutrition
Calories:
107
kcal
|
Carbohydrates:
22
g
|
Protein:
1
g
|
Fat:
2
g
|
Saturated Fat:
1
g
|
Polyunsaturated Fat:
1
g
|
Monounsaturated Fat:
1
g
|
Cholesterol:
2
mg
|
Sodium:
33
mg
|
Potassium:
13
mg
|
Fiber:
1
g
|
Sugar:
17
g
|
Vitamin C:
1
mg
|
Calcium:
1
mg
|
Iron:
1
mg