Tender, flaky, frozen salmon in the air fryer. These salmon fillets are brushed with an easy and flavorful honey and garlic marinade and are perfect for a minimal effort meal. The salmon goes from frozen to cooked in the air fryer in 12 minutes!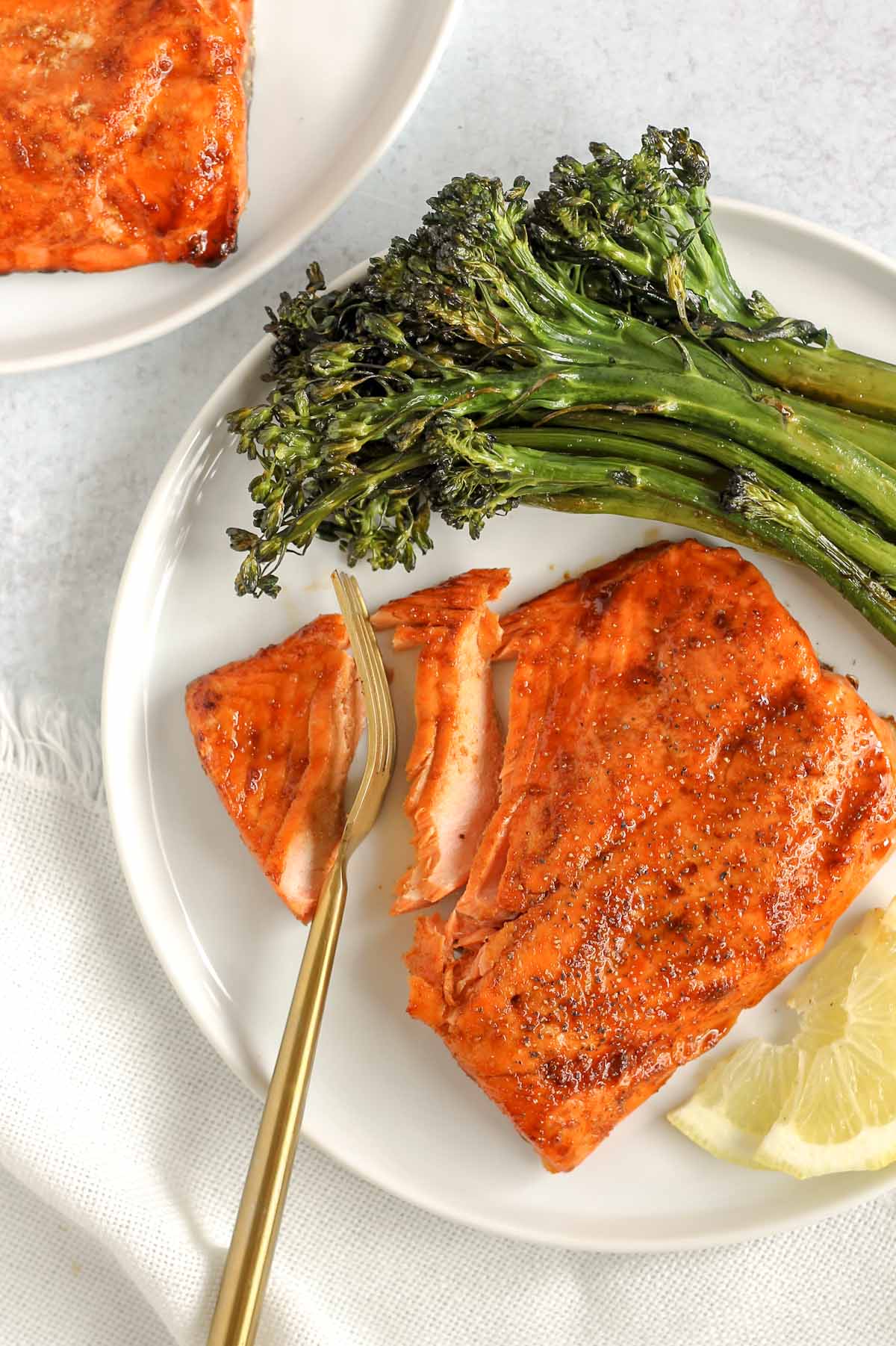 This frozen salmon in the air fryer is such an easy and quick option for a busy night or when you're just looking for an easy night of cooking. Whether you've cooked hundreds of things in your air fryer, or you're brand new to air frying, this recipe is for you.
I've pretty much been loving everything about my air fryer lately. Air fryer teriyaki chicken bites, air fryer smashed potatoes, air fried apples, and air fryer turkey burgers; you can cook pretty much anything in the air fryer.
What To Love About This Recipe
QUICK - Frozen salmon takes roughly 12 minutes to cook in the air fryer, so you have yourself a healthy and flavorful protein in no time!
FLAVORFUL - I brush this salmon with a super simple garlic and honey marinade - it adds so much flavor with minimal effort.
DIETARY NEEDS - Gluten free, dairy free, low-carb, Paleo, and as always clean eating. Pretty much fits any dietary choice/need.
Ingredients Needed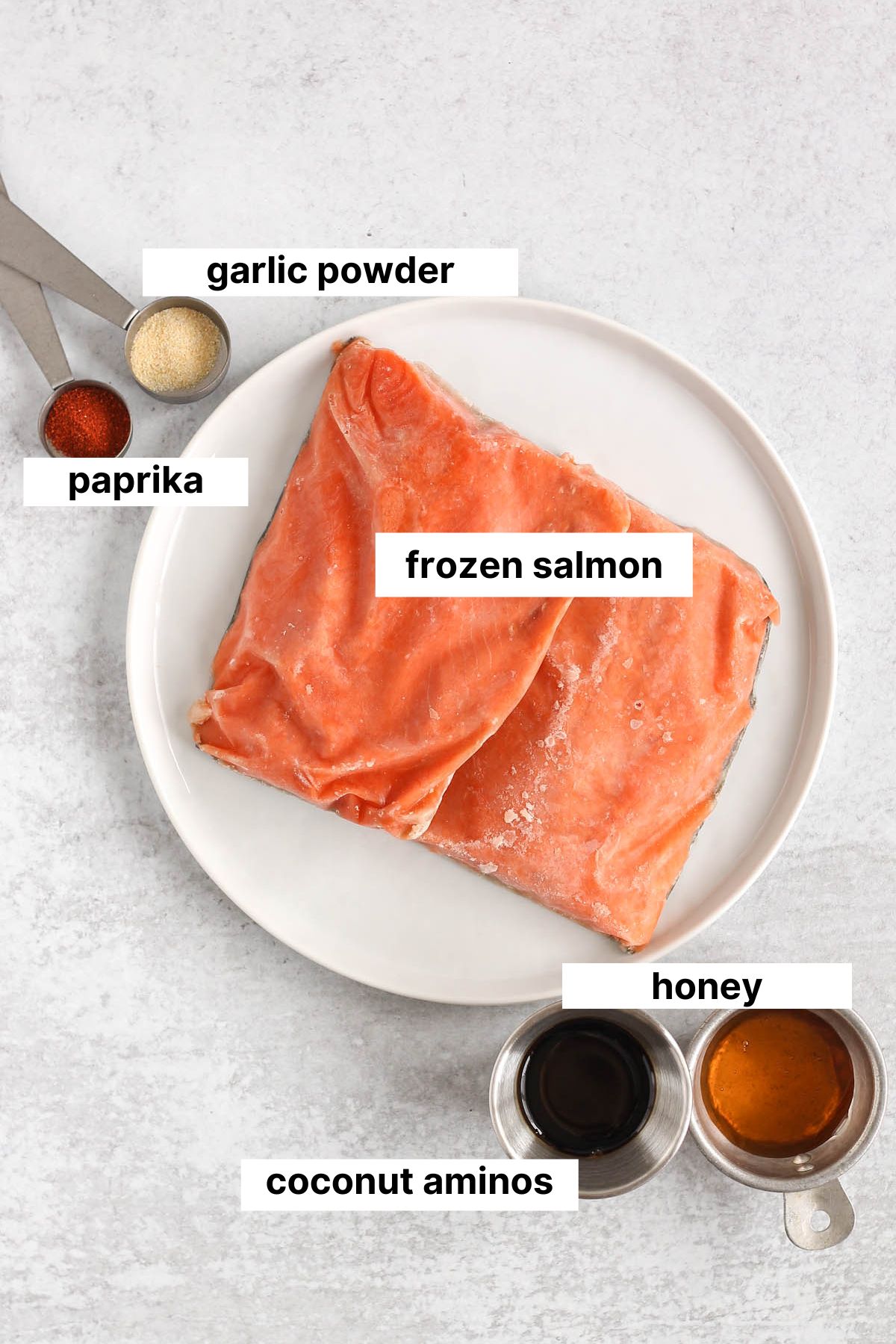 Ingredient Notes & Substitutions
A complete list of ingredients and the amounts can be found in the recipe card below. Specific notes and substitutions are listed here.
FROZEN SALMON - There are different types of salmon you can purchase, but most common are sockeye salmon and Atlantic salmon. Sockeye salmon is smaller so the fillets are much thinner and is richer in flavor. Atlantic salmon is thicker, has more mild flavor. Either type works for this air fryer frozen salmon.
COCONUT AMINOS - Coconut aminos is a soy, wheat, and gluten free (and healthier) alternative to soy sauce and that is why I always choose coconut aminos. However, you can easily use soy sauce if that's what you have (or even tamari.)
HONEY - Used to slightly sweeten the marinade. You can also use coconut sugar or brown sugar.
PAPRIKA - Smoked or regular paprika can be used.
Clean food tip: Farm raised vs. wild caught - opt for wild-caught if you can. Both wild-caught and farm-raised are a good source of omega-3 fatty acids, but wild-caught has higher amounts. Farm raised are also given feed that contains dye to give the salmon the pink color you expect, while wild-caught are naturally pink from their diet. In addition, some farm raised salmon are also given antibiotics. With all animal protein sources, I prefer they come from the way nature intended. Both for health and environmental reasons.
How to Make Frozen Salmon in the Air Fryer
STEP 1: Preheat air fryer to 390 degrees. Place frozen salmon fillets in the air fryer basket skin side down and set timer for 12 minutes.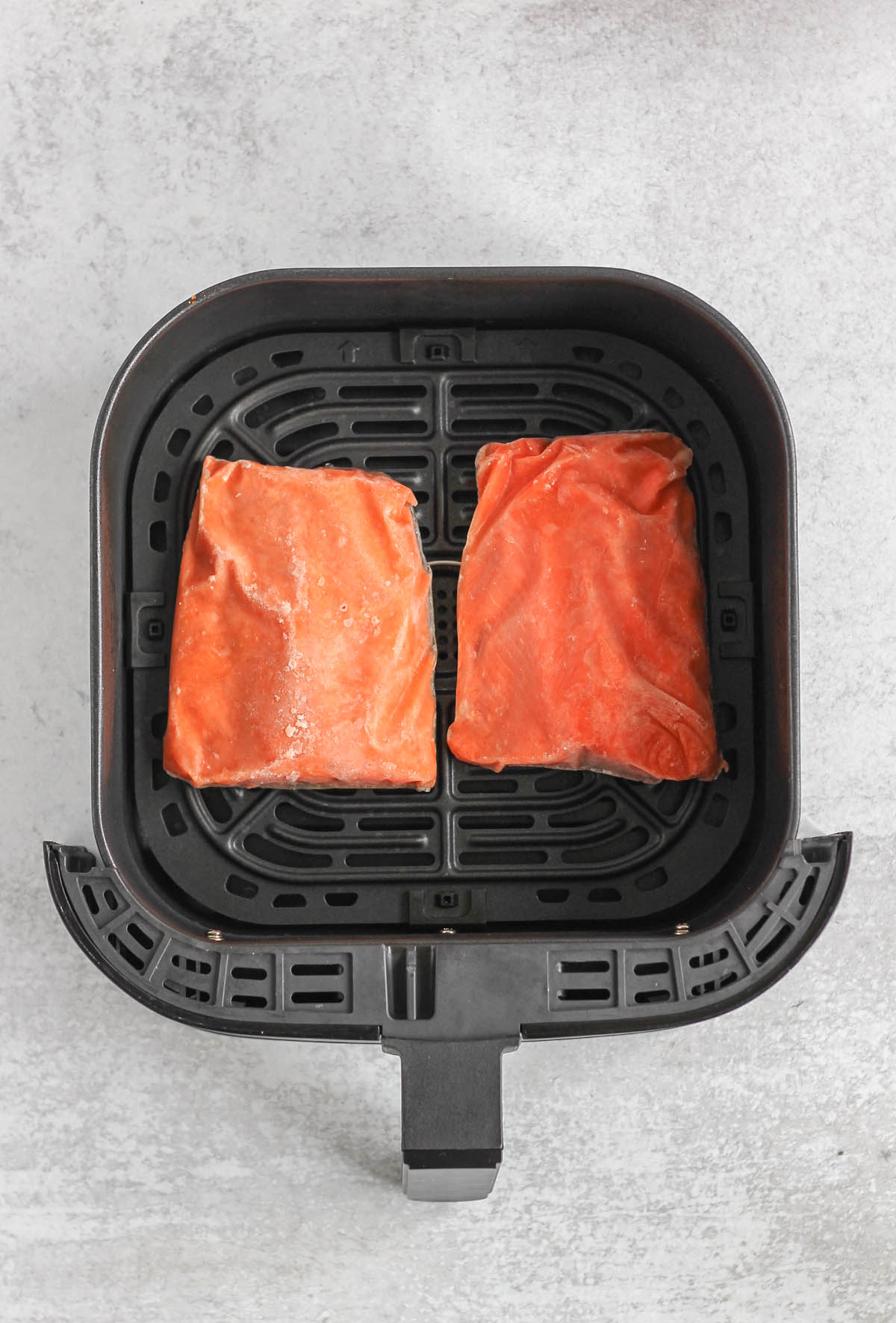 STEP 2: While the salmon is cooking, whisk together the honey, coconut aminos (or soy sauce), garlic, and paprika.
Half way through cooking time, remove basket from air fryer and brush marinade over each piece of salmon. Return basket to air fryer and continue cooking.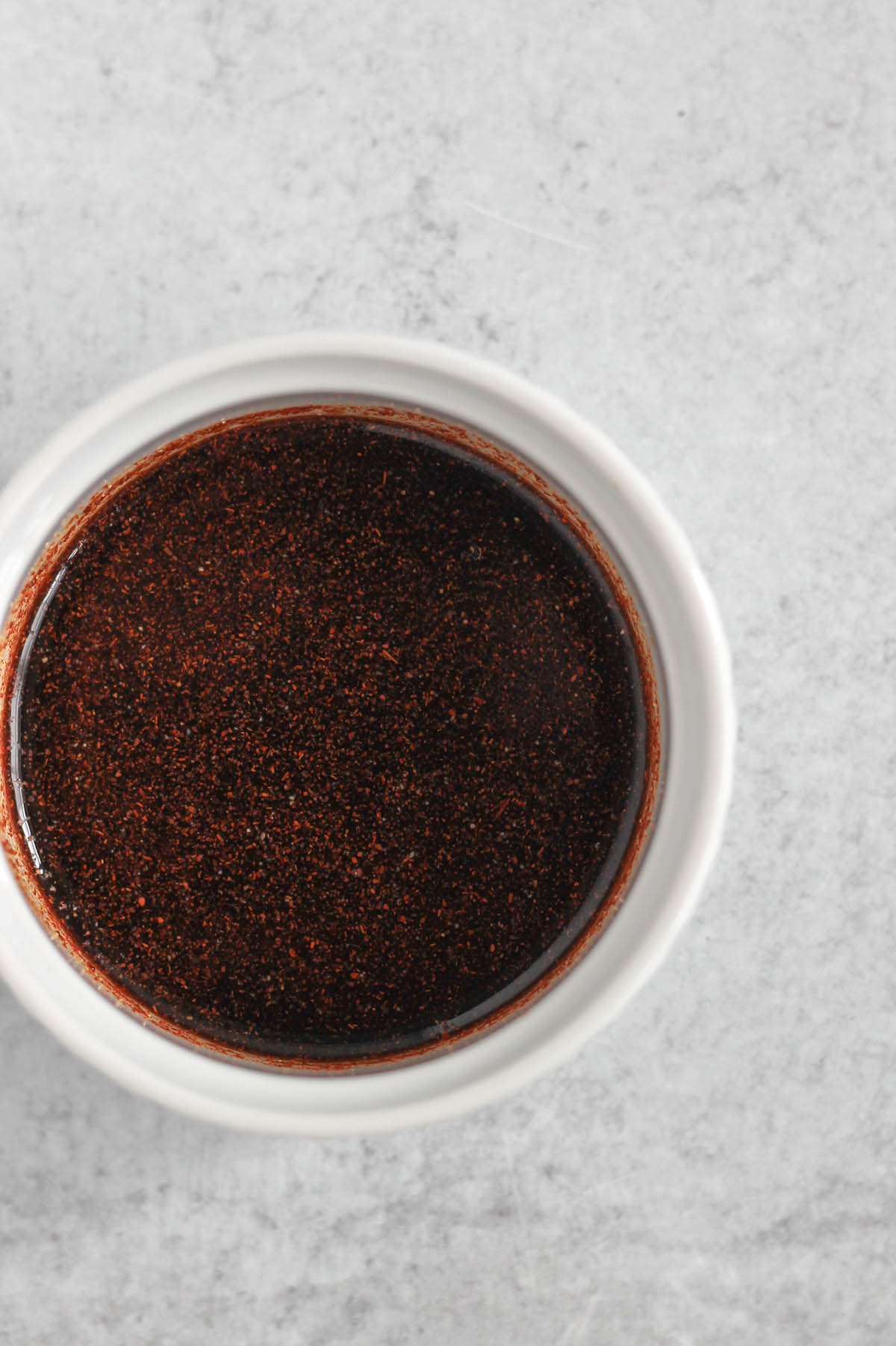 STEP 3: Remove salmon from air fryer basket once fully cooked. This should take about 12 minutes, but note the cooking time will vary depending on how thick your fillets are. I always use sockeye salmon, which are thinner, so 12 minutes is perfect.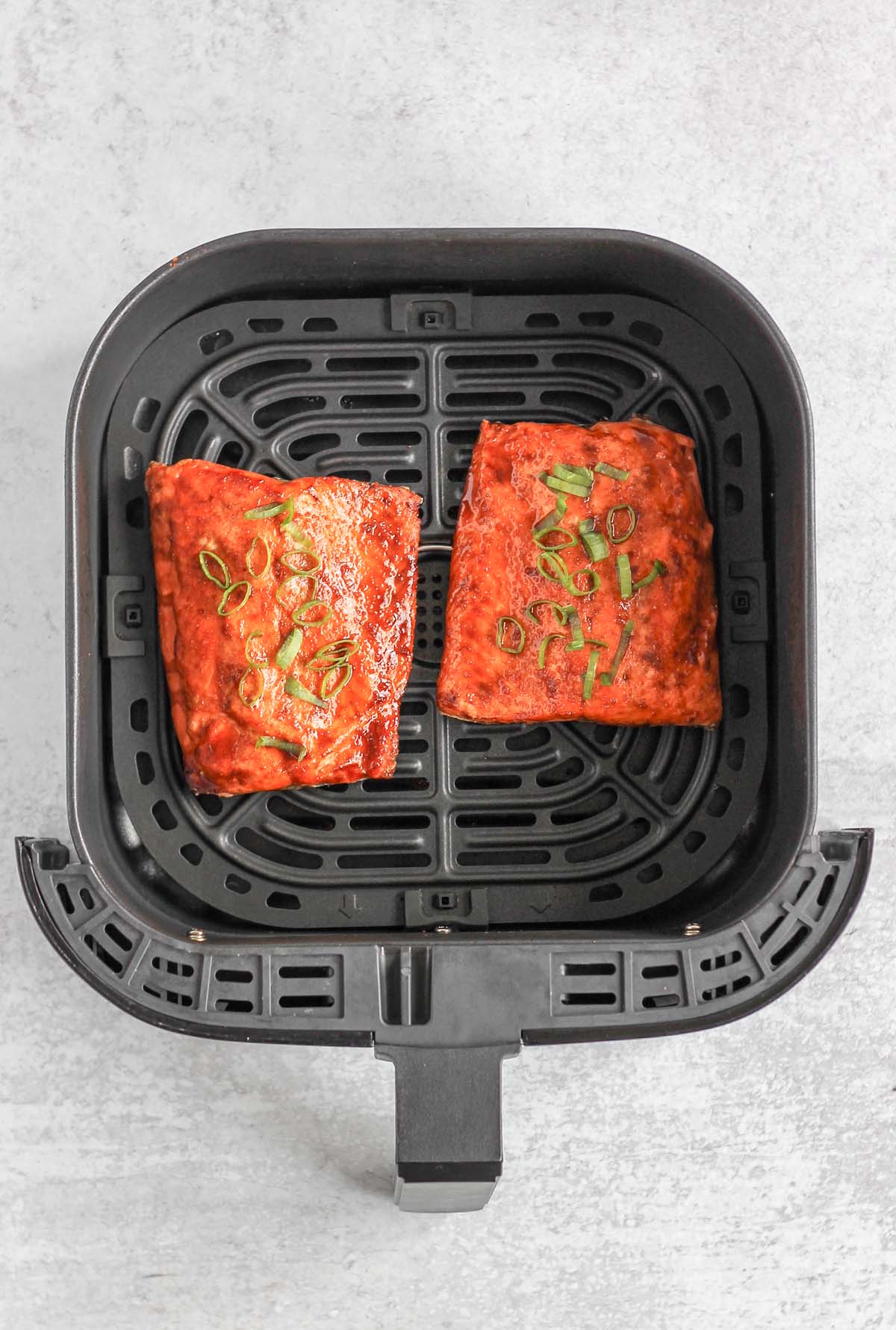 And that's it! Frozen salmon in the air fryer couldn't be any easier.
How Do You Know When Salmon is Fully Cooked?
Just like steak, some people like their salmon more well-done than others. Some like it medium-rare, while some like it well done. According to the USDA, fish should be cooked to an internal temperature of 145 degrees F. This would result in a well done piece of salmon.
So, if under-cooked salmon weirds you out, you can cook until a meat thermometer inserted into the thickest part of the fillet reaches 145 degrees F. Once salmon reaches close to this temperatures, a white substance known as albumin will be released from the fish. If you see this starting to appear, you know your salmon is fully cooked (it's totally safe to eat this!)
For salmon that is more on the medium side, cook until it reaches about 125/130 degrees. It's important to note that the salmon will continue to cook by about 5 degrees as it rests outside of the heat. Take this into consideration when cooking to desired temperature.
And if you don't have a meat thermometer, simply take a fork and test for flakiness. If the fish flakes easily with a fork, it's cooked through.
Choosing An Air Fryer
I bought an air fryer by Instant Vortex a few years ago on a black Friday deal and I really like it. I have heard really good things about Phillips air fryers too.
I honestly think you can't go wrong with whatever you choose. Just pay attention to the size. Mine is a 6 quart and I would recommend going with a 6 quart or larger.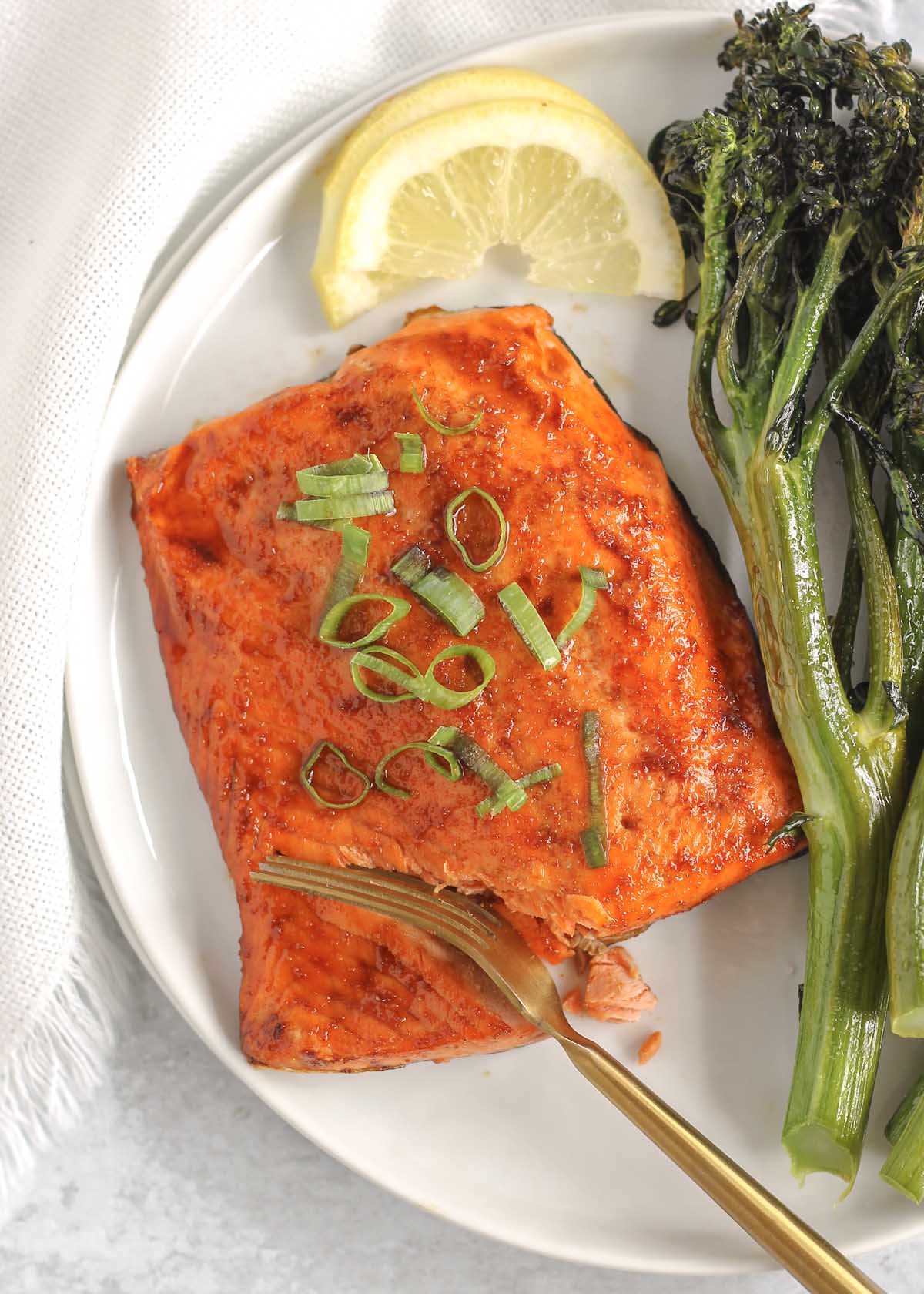 FAQs
Do I need to thaw the salmon first?
No, the salmon can be cooked directly from frozen. It will still turn out tender and flaky even when cooked from frozen.
Do I leave the skin on?
When cooking, yes. After the salmon has finished cooking, you can peel the skin off if you'd like. However, the skin is completely safe to eat and will be nice and crispy from the air fryer, so you can leave it on if you prefer.
What are the benefits of salmon?
There are many health benefits. It is a good source of protein, Omega-3 fatty acids (what it's most known for), vitamin A, some B vitamins, and minerals like selenium and zinc.
Can I use fresh salmon?
Absolutely! Fresh salmon should take about half as much time in the air fryer, so start by air frying for 6 minutes.
Tips & Notes
For super easy clean-up, place parchment paper down in your air fryer basket before adding the salmon.
Use evenly sized pieces of salmon. This will help so that all pieces cook at the same time.
Make sure to preheat the air fryer before adding the salmon.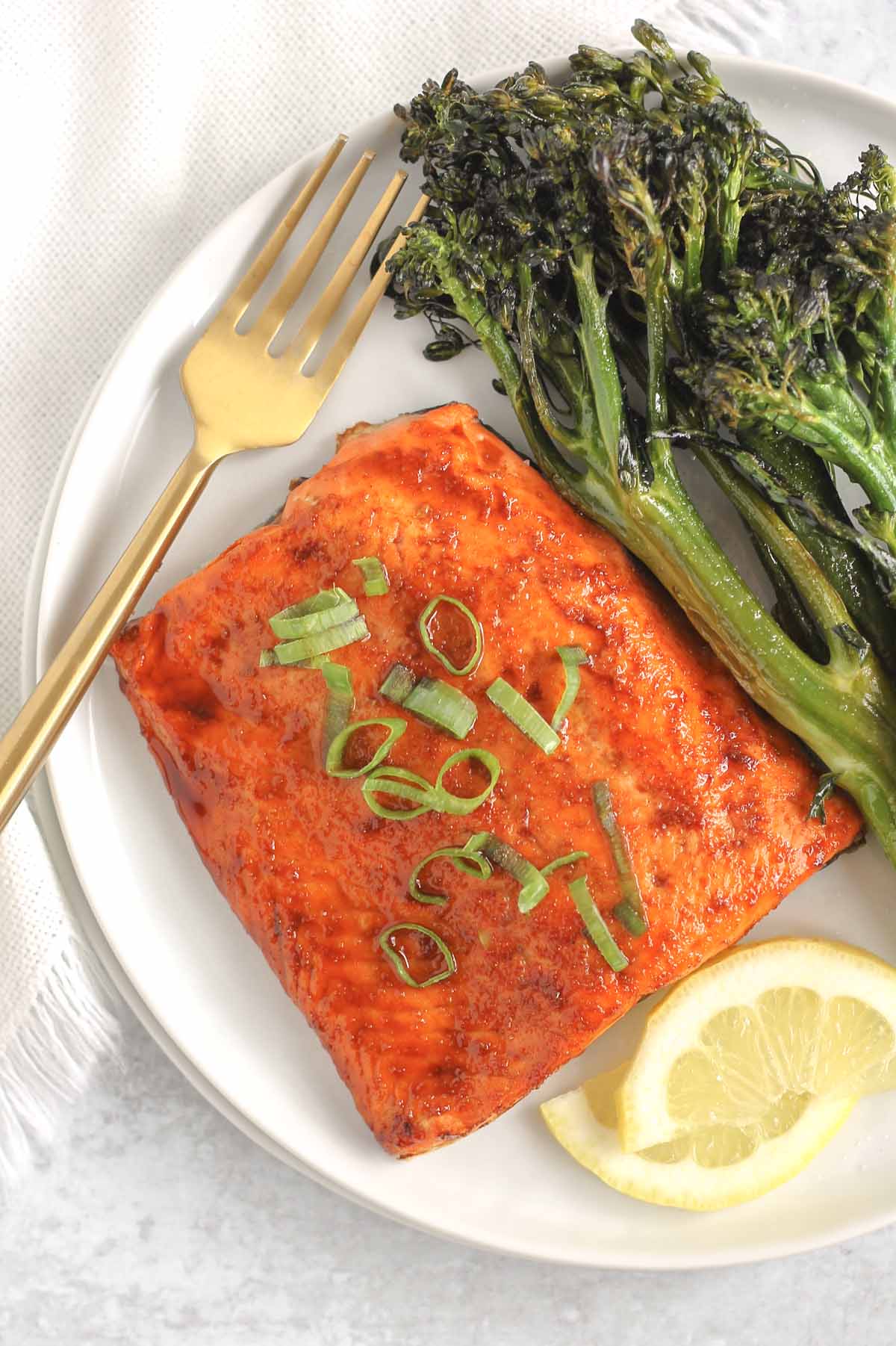 How to Serve It!
With fried rice - Skip the chicken in my chicken fried rice and add this salmon instead. Or serve alongside regular rice or cauliflower rice.
Add to pesto pasta - Cook up your favorite noodles and toss with my kale pesto. Or simply make pesto salmon and brush the salmon with pesto during/after cooking.
Make BBQ salmon - Whip up some Whole30/Paleo BBQ and brush this on the salmon during and after cooking.
Make a salad - Add to a Mediterranean Bowl, swap the chicken for salmon in this BLT salad, add to this kale and butternut squash salad, or make a classic Caesar salad with it.
There are just so many ways to eat this air fryer frozen salmon!
How to Store
Any leftovers should be stored in an airtight container in the fridge and will stay fresh for up to 3 days. You can eat leftovers cold or warm up in the microwave or again in the air fryer.
Don't Forget These Side Dishes for This Recipe
Eat Clean.Be Healthy!
-Sara
If you make this recipe, please let me know what you think! I would so appreciate you leaving a star rating and/or comment below. And don't forget to share a photo on Instagram or Facebook and mention @CleanPlateMama!
Eat Clean.Be Well!
-Sara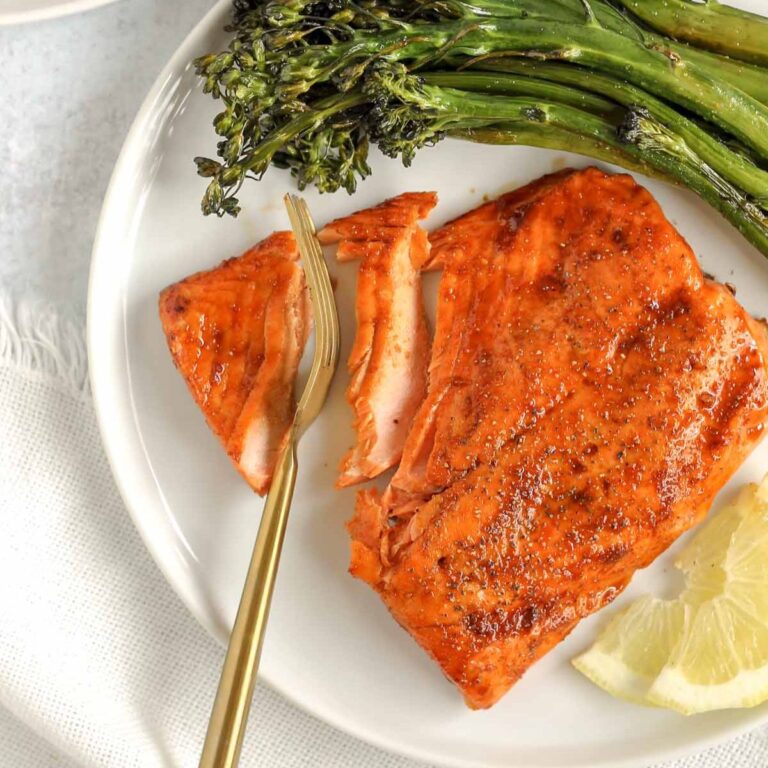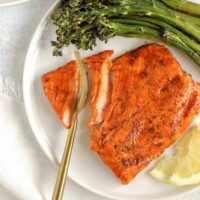 Air Fryer Frozen Salmon
Tender, flaky, frozen salmon in the air fryer. These salmon fillets are brushed with an easy and flavorful honey and garlic marinade and are perfect for a minimal effort meal. The salmon goes from frozen to cooked in the air fryer in 12 minutes!
Print
Pin
Rate
Ingredients
2

frozen salmon fillets

1

tbsp.

coconut aminos

½

tbsp.

honey

¼

tsp.

garlic powder

¼

tsp.

paprika
Instructions
Preheat your air fryer to 390 degrees F.

Once preheated, place frozen salmon fillets skin side down in the air fryer basket. Set timer for 12 minutes.

Meanwhile, whisk together the coconut aminos, honey, garlic powder, and paprika. Half way through cooking time brush salmon fillets with marinade.

Check salmon after 12 minutes. Salmon is cooked when it can easily be flaked with a fork or the internal temperature is between 140-145 degrees F. Note that the internal temperature will continue to rise by about 5 degrees after it's removed from the heat.
Notes
Substitutions: Soy sauce can be used in place of coconut aminos and either brown sugar or coconut sugar can be used in place of the honey. 
Set aside half of the marinade if you'd like to brush additional marinade on salmon before eating (place in separate dish to avoid contaminating with raw salmon.)
Cooking time is approximate. Total cooking time will vary depending on how thick your salmon pieces are. 
See blog post for tips on cooking salmon if you'd like it done more on the medium side. 
Nutrition
Calories:
264
kcal
|
Carbohydrates:
5
g
|
Protein:
34
g
|
Fat:
11
g
|
Saturated Fat:
2
g
|
Polyunsaturated Fat:
4
g
|
Monounsaturated Fat:
4
g
|
Cholesterol:
94
mg
|
Sodium:
243
mg
|
Potassium:
856
mg
|
Fiber:
1
g
|
Sugar:
3
g
|
Vitamin A:
371
IU
|
Vitamin C:
1
mg
|
Calcium:
23
mg
|
Iron:
2
mg