Peach season is upon us and these peaches and cream overnight oats are a perfect way to enjoy this seasonal fruit! A nutritious way to start your day and are both gluten free and dairy free friendly.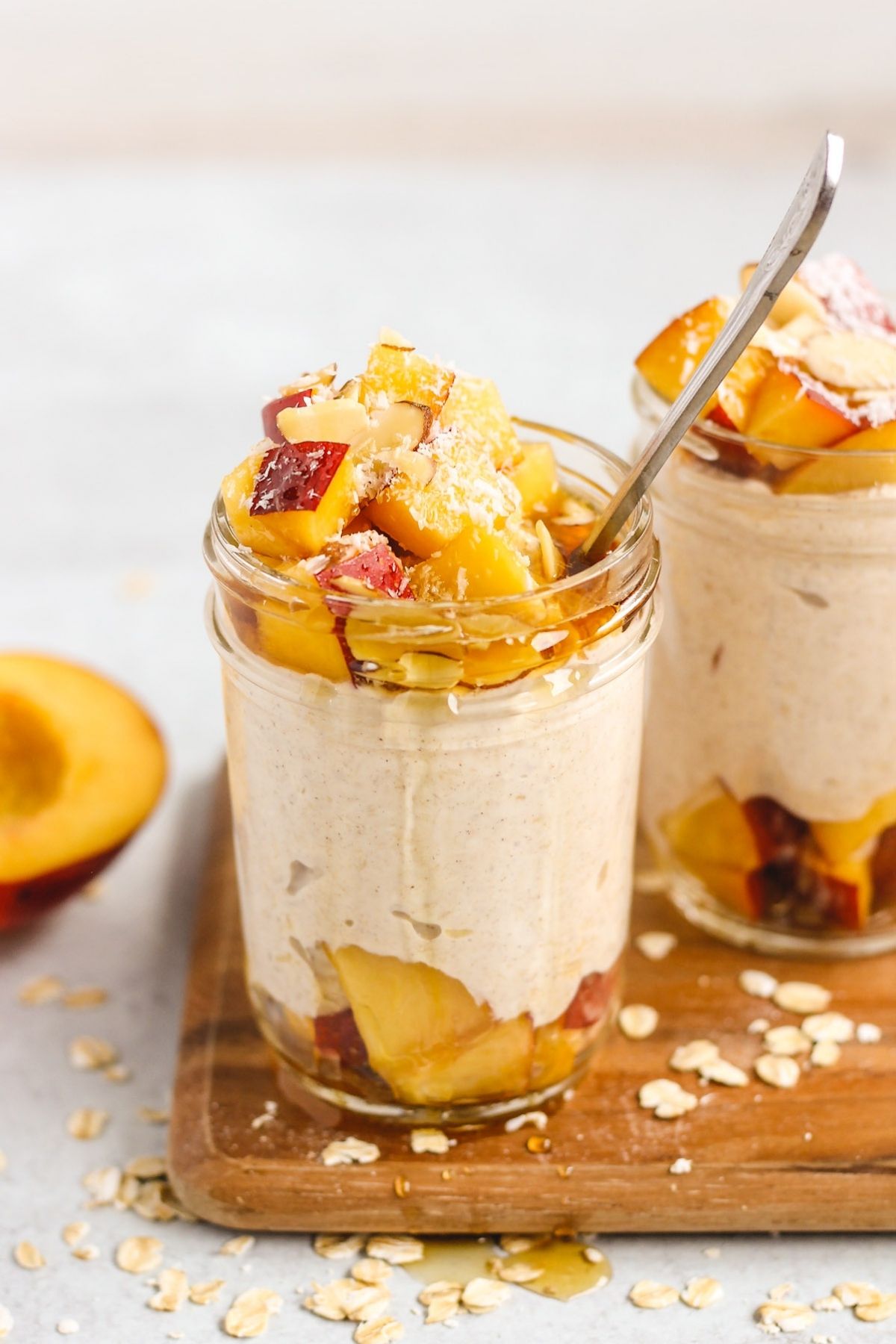 Oh yes, it's peach season. I love it when I can go to the grocery store and find fresh, organic peaches. Peaches are a good sources of vitamin C, vitamin A, potassium, and fiber (if you eat the skin). Plus, they are a great way to satisfy your sweet tooth, so dig right in!
The season is short, so when this time of the year comes around, we indulge in all things fresh peaches, like these peaches & cream overnight oats. Looking for more peach recipes, then try my gluten-free peach and blueberry crisp and peach banana smoothie!
Recipe Features
EASY - These literally take 5 minutes of prep and use simple/basic ingredients. Then you have a delicious and healthy breakfast waiting for you in the morning.
TASTES LIKE DESSERT - The combo of the fresh peaches, yogurt, and a little bit of pure maple syrup makes it feel like you're eating peach pie for breakfast... yum!
DIETARY NEEDS - Recipe as written is dairy free, but you can easily sub regular dairy products if not needing these to be dairy free. And look for certified gluten-free oats to keep gluten free if needed.
Ingredients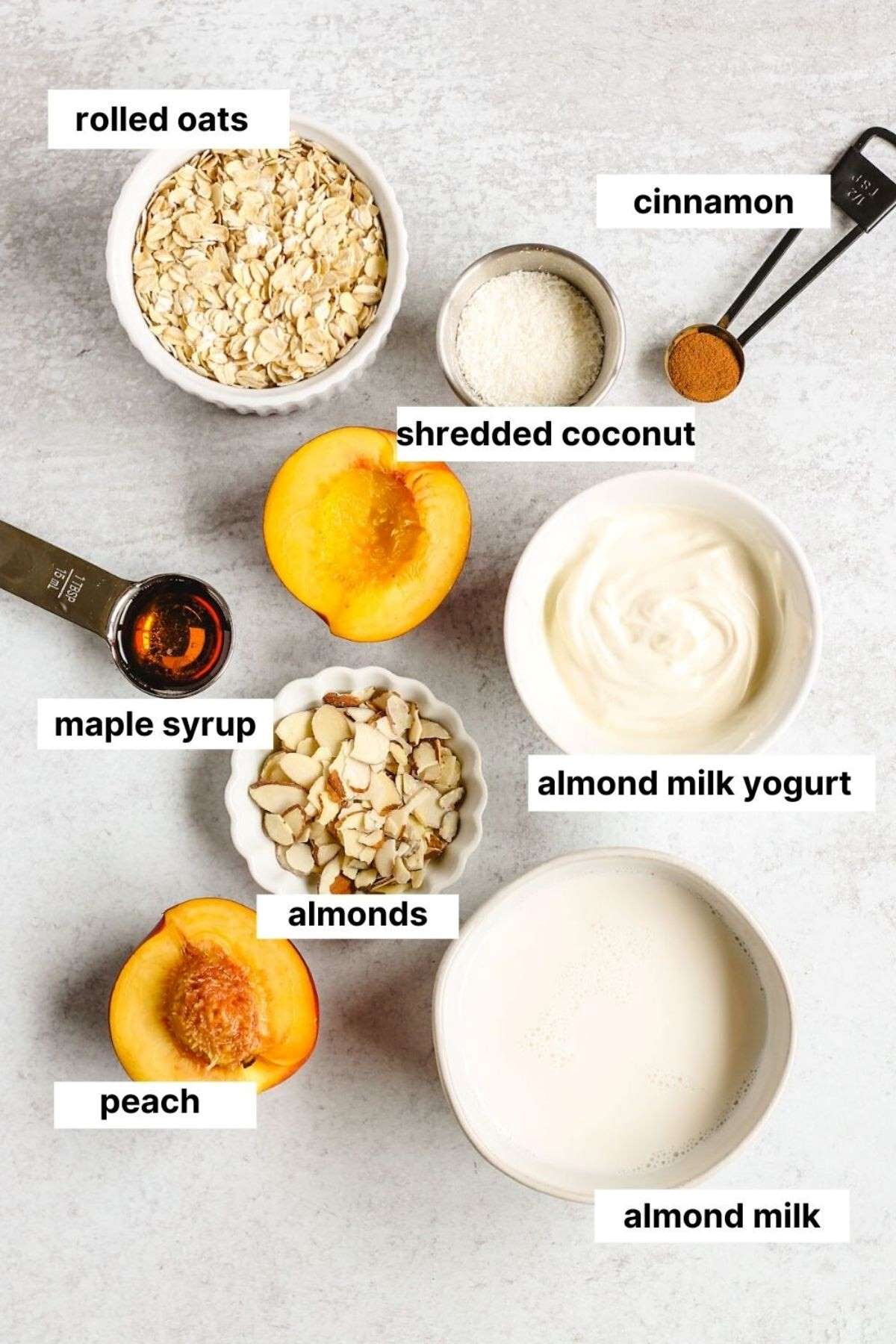 Ingredient Notes & Substitutions
A complete list of ingredients and amounts can be found in the recipe card below. Here are some specific call-outs, and when needed some tips on keeping the ingredients clean.
ROLLED OATS - You'll want to use rolled oats, also called old fashioned oats (not quick cooking oats). Why, you ask? Quick oats will absorb the liquid more and will result in a mushier texture (nobody wants that).
Clean food tip: Like most things, especially grains, I recommend organic. Conventionally grown oats are known to contain high levels of glyphosate (an herbicide that's been linked to certain cancers). My favorite oats are GF Harvest Organic Gluten-free Rolled Oats.
PEACHES - I use fresh peaches, but you could use frozen peaches too. You can also use nectarines.
Clean food tip: Peaches are on the dirty dozen list, so I recommend organic if possible.
ALMOND MILK & ALMOND YOGURT- To keep these dairy free, I use both almond milk and almond milk yogurt (Greek or regular). You can use any dairy free milk and/or yogurt. And if you're not dairy free, simply use regular milk and yogurt.
Make sure the yogurt you are using in plain and unsweetened and if using a non-dairy milk, also make sure it's plain and unsweetened.
Clean food tip: Check the ingredients lists for your dairy free yogurt/milk. For almond milk (or any nut milk), you want to see just almonds (or the nut) and water (and maybe salt). You don't want to see added sugars, flavors, or gums.
Check the yogurt to make sure there aren't any added sugars or flavors. You can't really get away from the yogurt having added gums. So, text book speaking, store-bought almond milk yogurt isn't "clean", but this is one of those times where I let it slide.
For both the almond milk and almond yogurt, organic is always best. Various pesticides and toxic residues are commonly found on conventional almonds.

My favorites are Malk, Elmhurst, and Kite Hill (plain, unsweetened). Note: Elmhurst milk and Kite Hill yogurt are not organic, however, due to the fact that these products are generally clean otherwise, I am still a big fan.
MAPLE SYRUP - Be sure to use pure maple syrup. It not only tastes better, but is much better for you!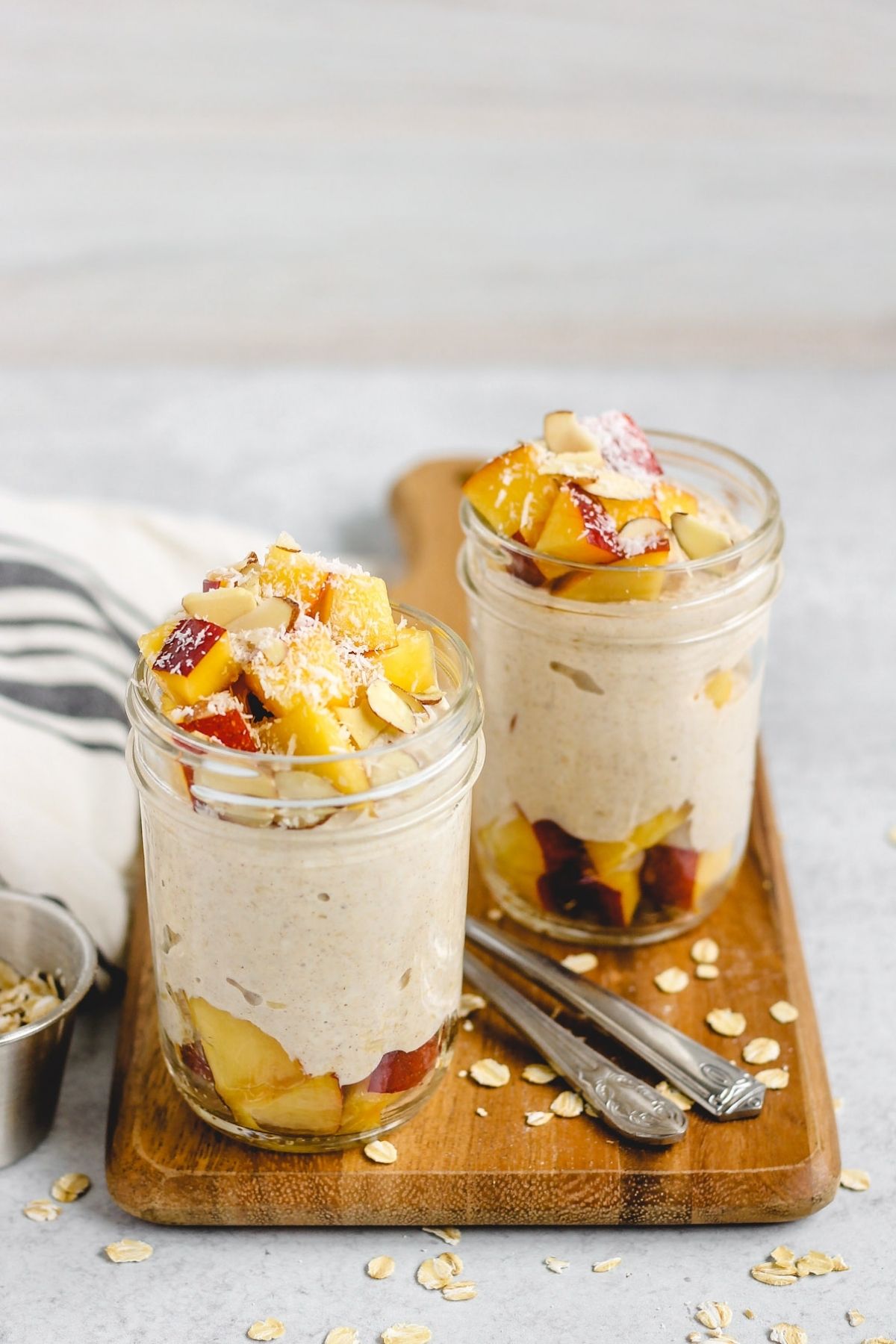 How to Make
These peaches and cream overnight oats take minutes to prep and becomes a delicious breakfast just waiting for you the following morning.
Start by adding your oats, almond milk, almond milk yogurt, cinnamon, and maple syrup to a mason jar or other airtight container. Stir until combined.
Chop your peach (or nectarine) and add to top of oats. Add sliced almonds and coconut to top of peaches. Note: you could add all the toppings before you eat your oats if you prefer.
Cover and let sit in the fridge overnight. Letting them sit overnight allows the oats to absorb the liquid and plump up so they are perfect for eating.
Stir peaches and other toppings into oats. Eat and enjoy!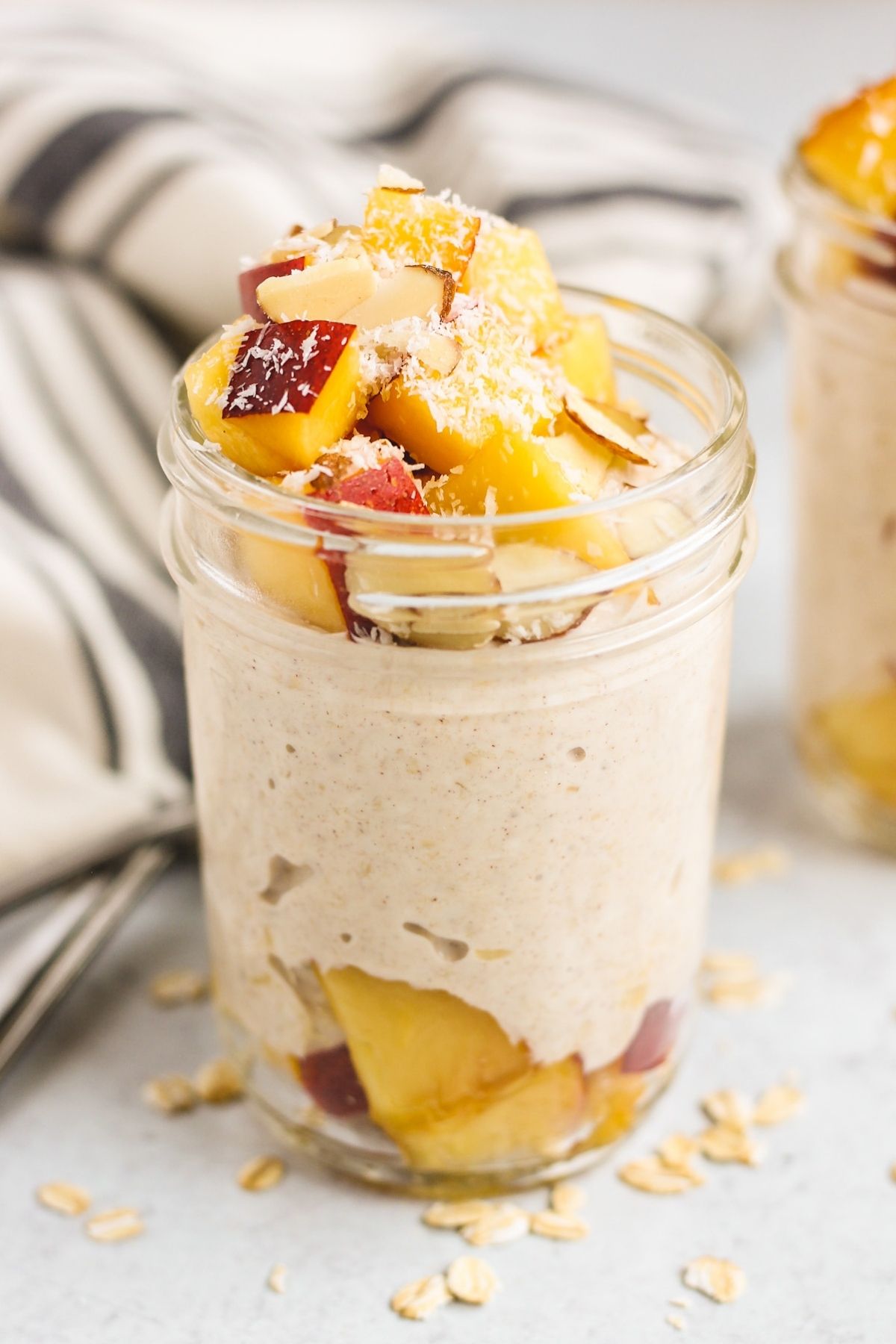 Optional Add-Ins
Vanilla extract - For extra flavor try adding in ¼ tsp. of pure vanilla extract to each serving.
Chia seeds or hemp seeds -With all overnight oats recipes (or regular oats, for that matter) I like adding in a spoonful of chia seeds or hemp seeds. Mix these in with the oats before refrigerating.
Nuts – Play around with adding your favorite nuts (like walnuts or pecans), or eliminate all together if you'd like.
Nut butter - Top these off in the morning with some peanut butter, almond butter, or any of your favorite nut butters!
Peaches vs. Nectarines
Peaches and nectarines are essentially the same thing. The biggest difference is in the skin. Peaches have soft, fuzzy skin, and nectarines have smooth skin. There's essentially a gene variant between the two, but I won't bore you (or myself) with the science of peaches and nectarines.
At the end of the day, they taste very similar and can be used interchangeably in all recipes, including these peaches and cream overnight oats.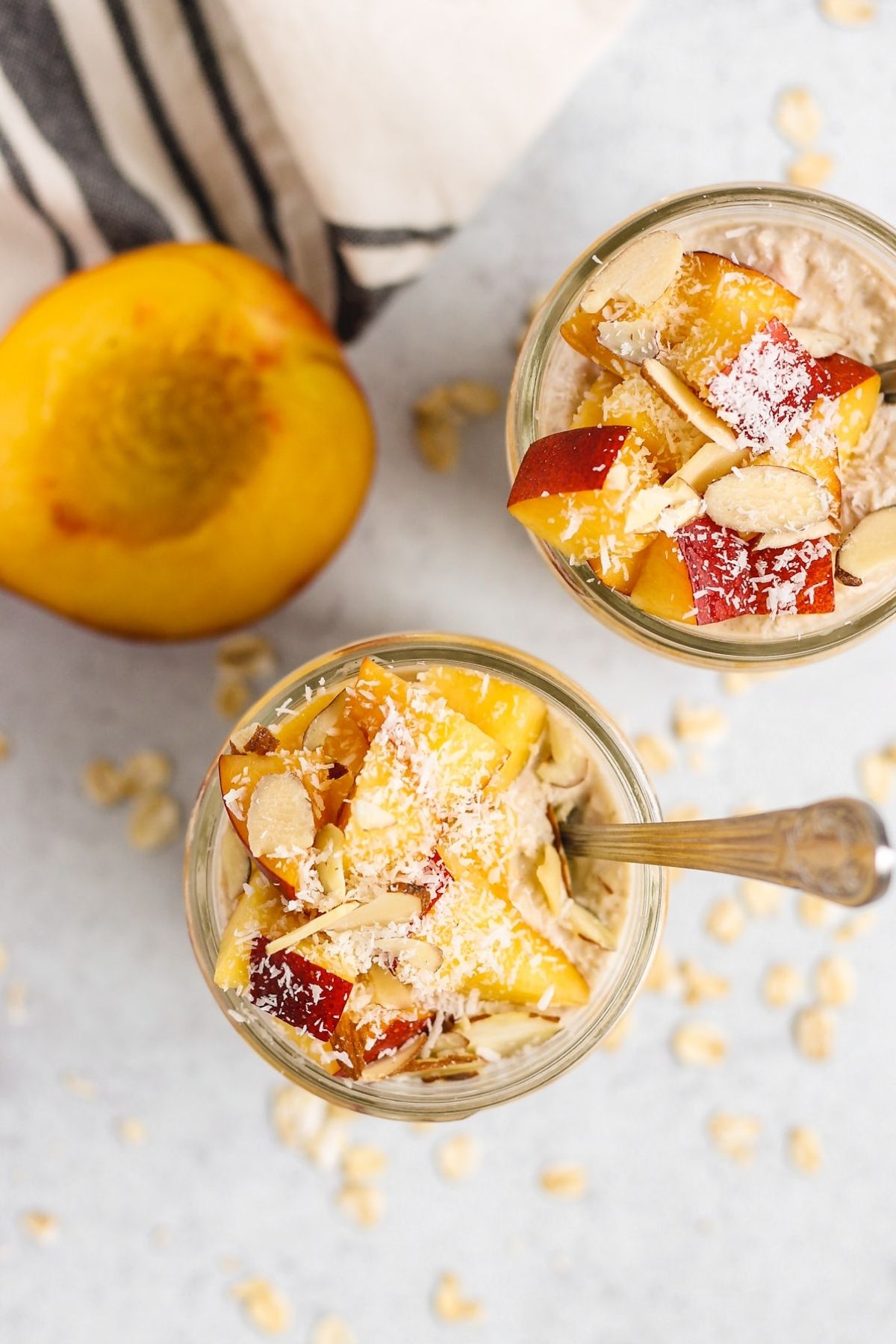 FAQs
How long do these last?
These peach overnight oats will stay good in the fridge for 3 days. You can easily make a few batches ahead of time and enjoy them for days!
Do you warm up overnight oats?
Totally up to you! I like mine straight from the fridge, but a lot of people like to warm them up quickly. Warming them up will taste more like warm peach pie too... yumm! Whatever your heart desires 😊
Can I used canned peaches?
For sure! I would just try to avoid as much as the juice as possible. Also, look for canned peaches that don't have any added sugars.
How long do overnight oats need to soak.
This really depends who you ask and your personal preference. Oats need time to soak up the liquid and soften up. The longer they have to soak, the softer the oats will get (but don't worry, they won't turn to mush if soaked for too long). I personally think they need a minimum of 4 hours to get a good texture. Some may say you really need to soak them overnight.
More Overnight Oats Recipes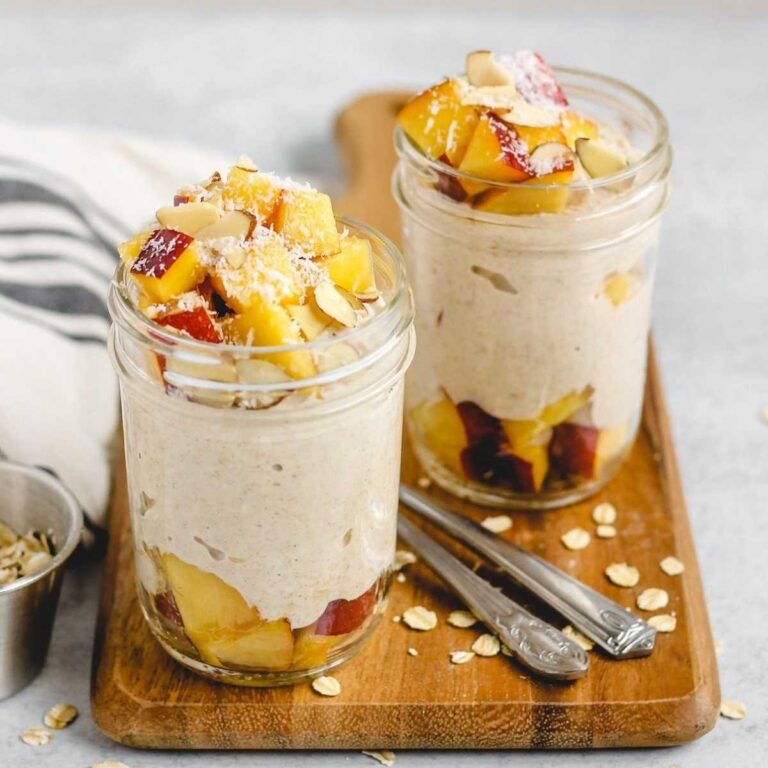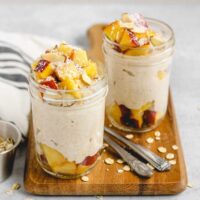 Peaches and Cream Overnight Oats
Peach season is upon us and these peaches and cream overnight oats are a perfect way to enjoy this seasonal fruit! A nutritious way to start your day and are both gluten free and dairy free friendly.
Print
Pin
Rate
Equipment
2 ,mason jars

(or other air-tight containers)
Ingredients
1

cup

rolled oats/old-fashioned oats

(certified gluten free if needed)

¼

cup

almond milk yogurt

(plain/unsweetened)

1 ½

cups

almond milk

(unsweetened)

1

tbsp.

pure maple syrup

(more to taste)

½

tsp.

cinnamon

1

peach, chopped

2

tbsp.

slivered almonds

2

tbsp.

shredded coconut, unsweetened
Instructions
Use 2 mason jars, or any other leak proof container, to prep overnight oats. Start by placing ½ cup oats in each jar.

Add 2 tbsp. yogurt, ¾ cup milk, ¼ tsp. cinnamon, and ½ tbsp. maple syrup to each jar. Stir all ingredients until fully mixed. Top with chopped peaches, almonds, and coconut. Tightly close up each jar/container.

Refrigerate overnight. Oats will be ready in the morning.
Notes
Yogurt: Greek or regular almond milk yogurt works. And if you aren't dairy free, you can use regular yogurt, just make sure it's plain/unsweetened.
Milk: Any unsweetened non-dairy milk will work, I just prefer almond milk.  And regular milk will work if you aren't dairy free. 
I usually make these in individual jars/containers, but you can easily make the recipe in one large batch and dish up in the morning. 
You can either eat these straight out of the fridge, or warm them up in the microwave quickly.
If oats are too thick for your liking in the morning simply add more milk. 
Nutrition
Calories:
423
kcal
|
Carbohydrates:
48
g
|
Protein:
11
g
|
Fat:
23
g
|
Saturated Fat:
9
g
|
Sodium:
334
mg
|
Potassium:
474
mg
|
Fiber:
11
g
|
Sugar:
13
g
|
Vitamin A:
245
IU
|
Vitamin C:
5
mg
|
Calcium:
380
mg
|
Iron:
3
mg