This dairy-free, and gluten free, roasted red pepper pasta is creamy and packed with flavor. It's the perfect dish for your next pasta night!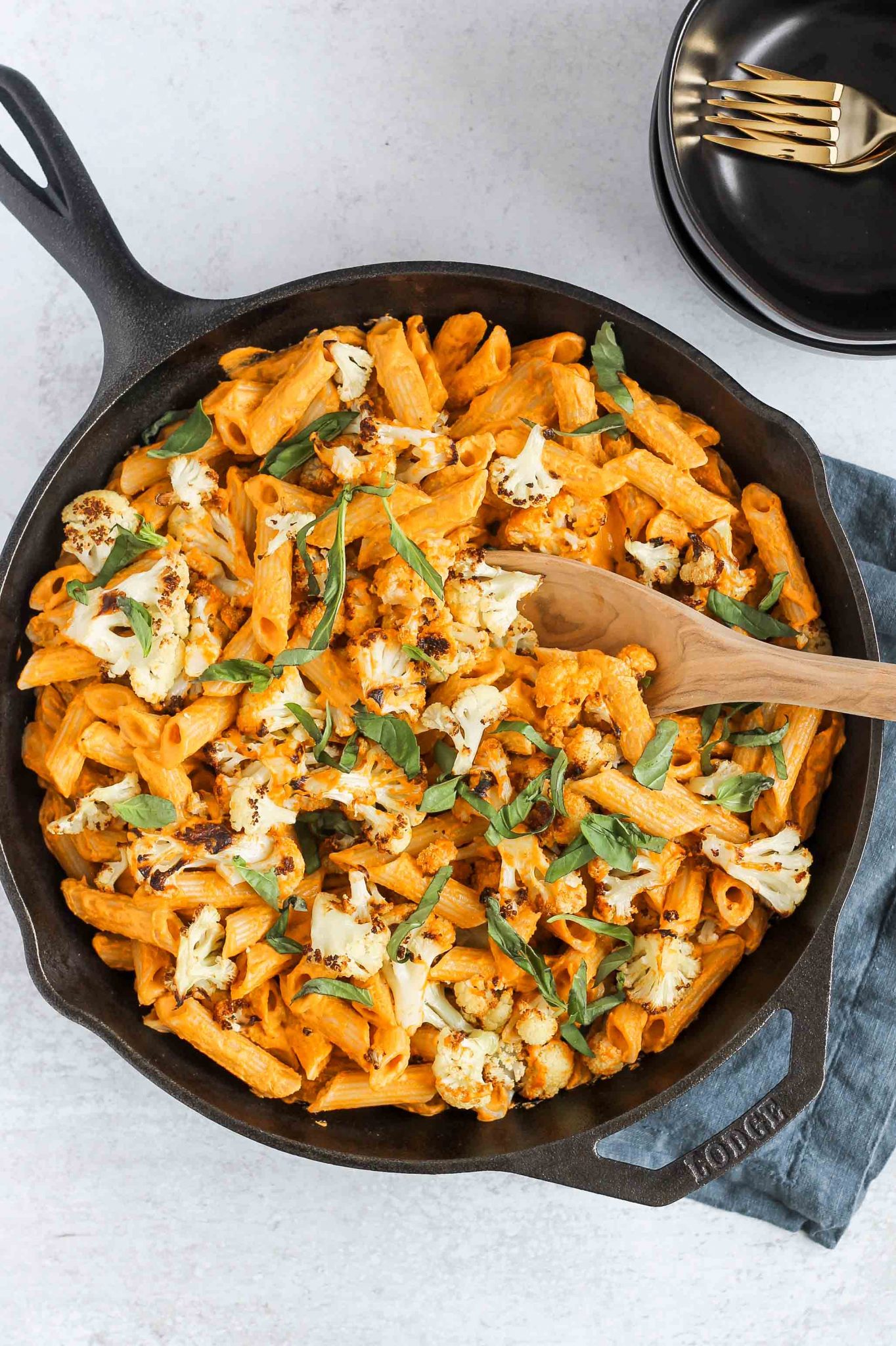 This creamy roasted red pepper pasta gets it's creaminess from cashews... no heavy cream here! Although I do believe you can still eat dairy (organic/full fat) on a real food diet, I am mostly dairy-free, so creating creamy, dairy-free recipes is a must for me!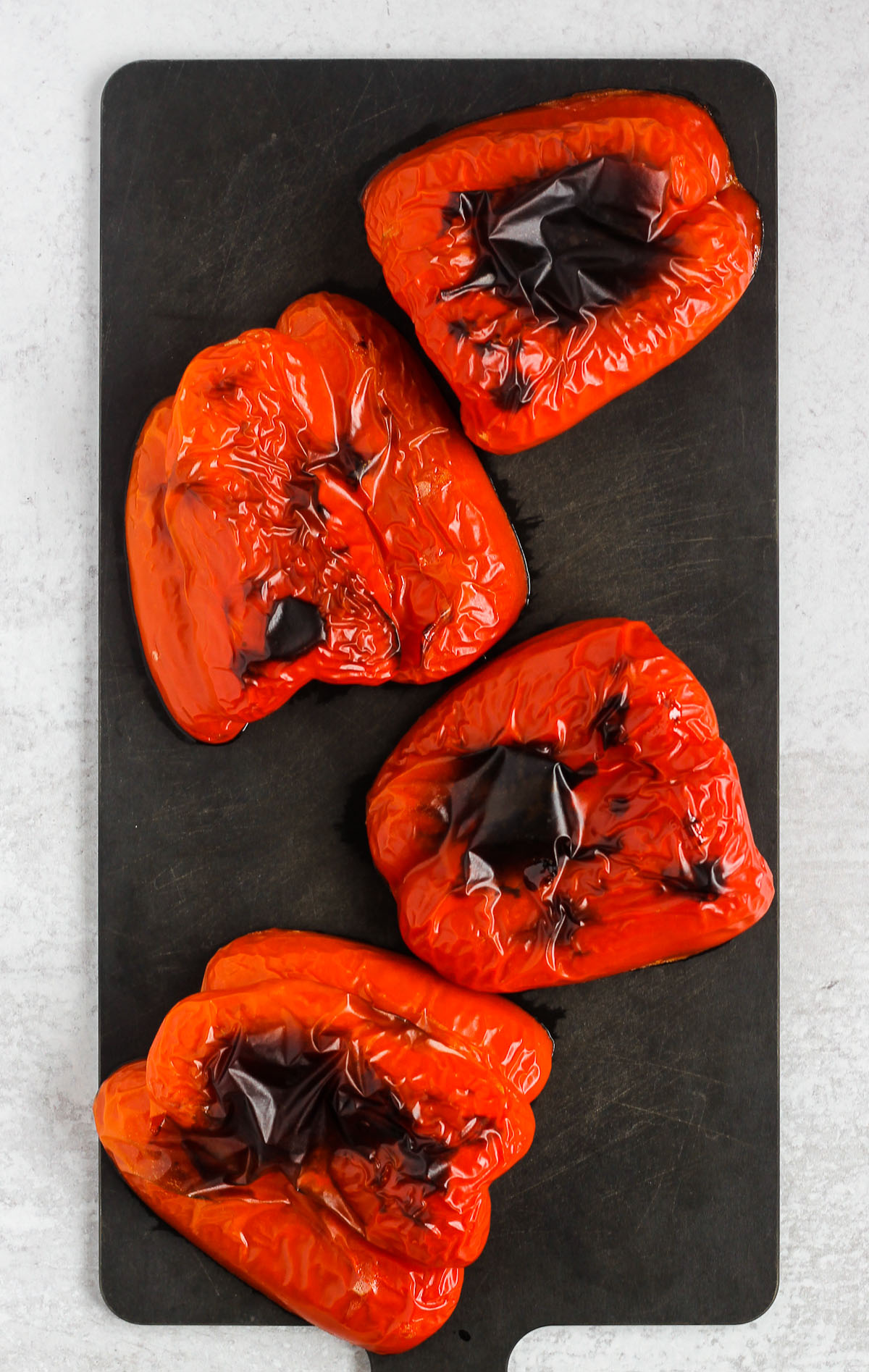 How to Make Creamy Roasted Red Pepper Pasta
The first thing you need to do is soak your cashews (use raw cashews) to soften them up so they are ready to blend into creamy oblivion. If you think of it, soak them overnight. If not, you can soak them in HOT water for a couple of hours (this is what I typically do as I'm terrible at planning ahead!).
You'll need two large red peppers for the sauce. Prep the peppers for roasting by slicing them in half lengthwise and removing the seeds and membranes (white parts) of each pepper. Place them cut side down on a baking dish lined with parchment paper. You will actually broil them, so start by moving your top oven rack about 6 inches from the top of your oven and turn your broiler on high. Place peppers under broiler and broil about 10 minutes. Once skin is charred, remove peppers from oven and let cool about 5-10 minutes. You will need to peel the skin off of the peppers - this can easily be done once they have cooled.
While the peppers are roasting, cook your pasta.
Roast your cauliflower after the peppers are done in the oven. Chop up cauliflower head and toss cauliflower florets with some olive oil. Roast cauliflower at 425 for 20 minutes, or until cooked and slightly crispy. Note: cauliflower is optional, but the light flavor of the roasted cauliflower goes great with this dish!
Once your cashews have been soaked and drained and the red peppers have been roasted/skin has been peeled off, you add these along with all the roasted red pepper sauce ingredients to a food processor or high speed blender. I prefer to use a blender as I feel it actually blends/gets the sauce extra smooth compared to a food processor, but either will work. Blend all ingredients on high until smooth.
Add your cooked pasta back to the pot you cooked it in. Add the roasted cauliflower and sauce to the noodles. Turn on medium heat so that you can heat up the sauce with the noodles. Stir frequently until hot. This should only take about 3-5 minutes.
Once heated, serve and enjoy!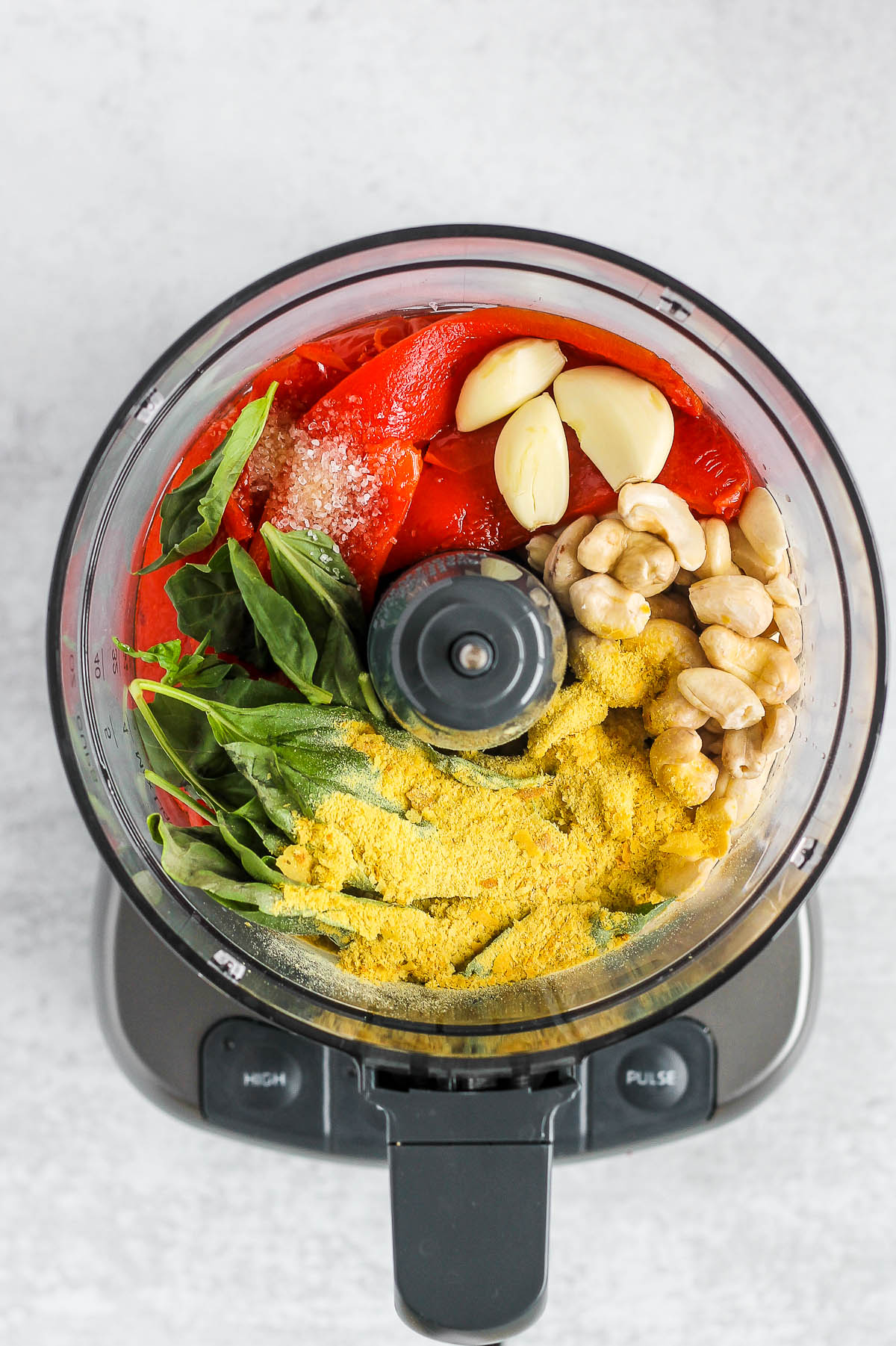 Can I Use Jarred Roasted Red Peppers?
Yes. When I've been short on time (or just downright lazy), I have used jarred roasted red peppers. It will still taste delicious if you use jarred instead of making them fresh. If you do use jarred, I recommend buying organic and making sure there is no added sugar.
Just know, though, that most have citric acid and/or calcium chloride. Although generally deemed safe, these are synthetic preservatives, so takes away from it truly being a real food.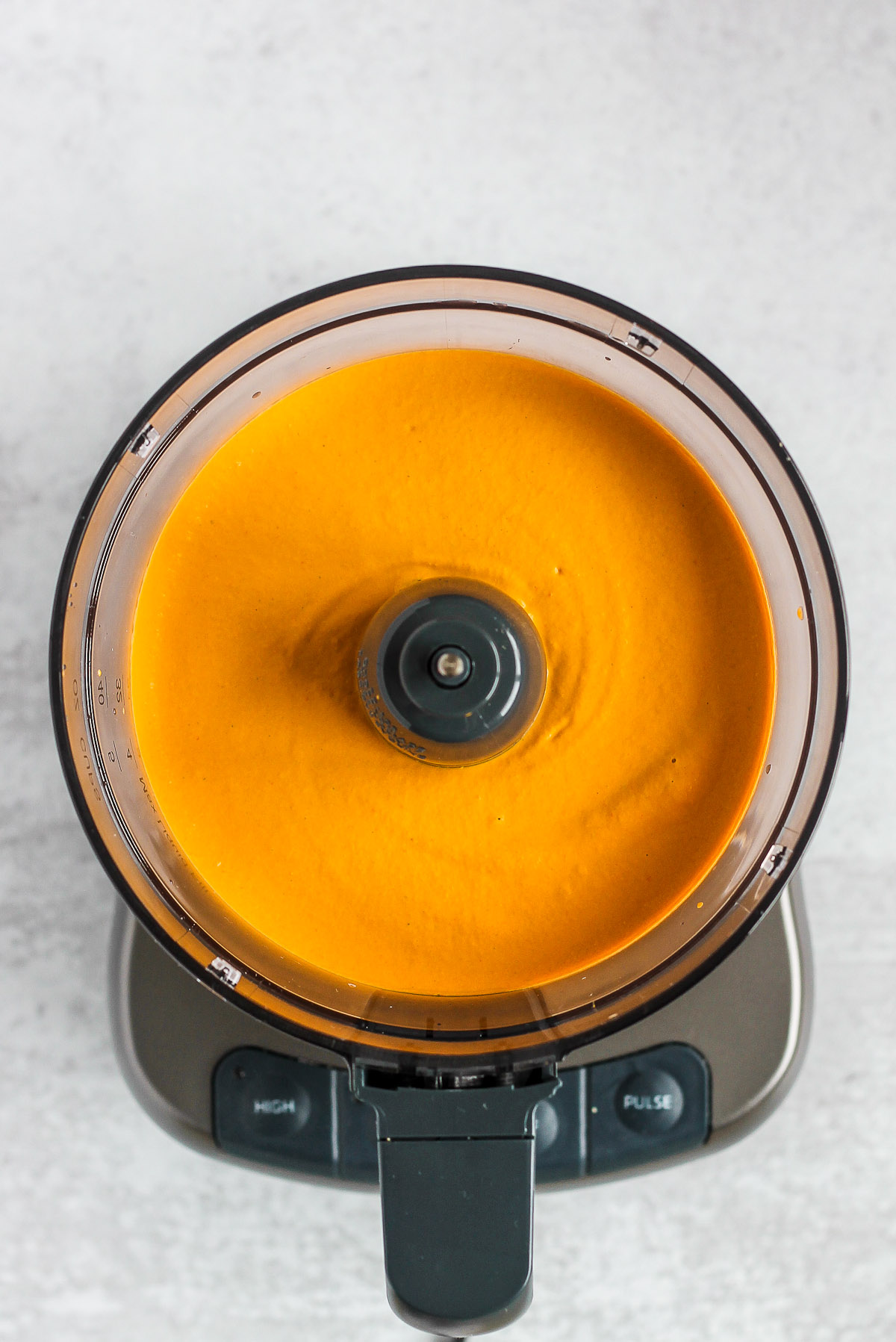 Can I Sub a Different Type of Noodle?
Absolutely! I do love penne with this though - since the sauce is on the thicker side, the penne does a nice job of holding onto the sauce. But, it would still be great with any type of noodle. If you use a different type of noodle, please let me know how it turns out.
Since I'm gluten free, I always use Jovial brown rice noodles. Their gluten-free, brown rice pastas are the BEST!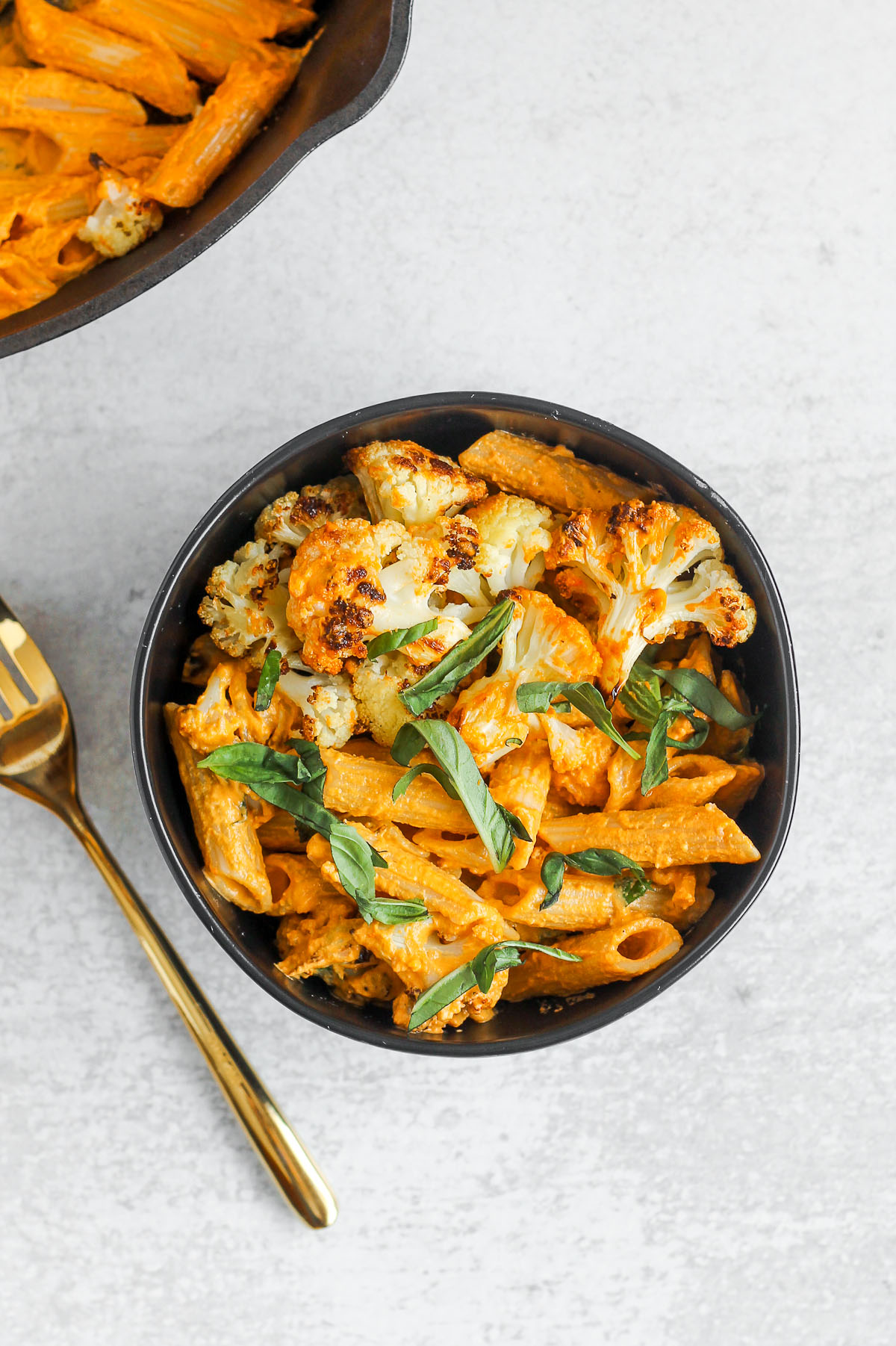 How to Keep Creamy Roasted Red Pepper Pasta Clean
Noodles – I am gluten-free, so I always use Jovial noodles. Their gluten-free noodles are made from 100% brown rice (no refined grains). If you aren't gluten-free, look for noodles made from whole durum wheat and that's it. That way you know you are getting pasta made from whole grains and nothing else.
Cashews – the creaminess in the sauce comes from the cashews. I highly recommend organic so you're not getting any yucky pesticides. Also be sure to buy and use raw cashews.
Red Peppers – as I previously mentioned, I recommend roasting your own peppers so that you are getting peppers and nothing else, but if you are short on time, or prefer to use the jarred kind, just know that it will take away from the real food aspect as most jarred roasted peppers have synthetic preservatives.
Extra-virgin olive oil – check out MY POST on this to ensure you are buying the highest quality, most nutrient dense oil you can.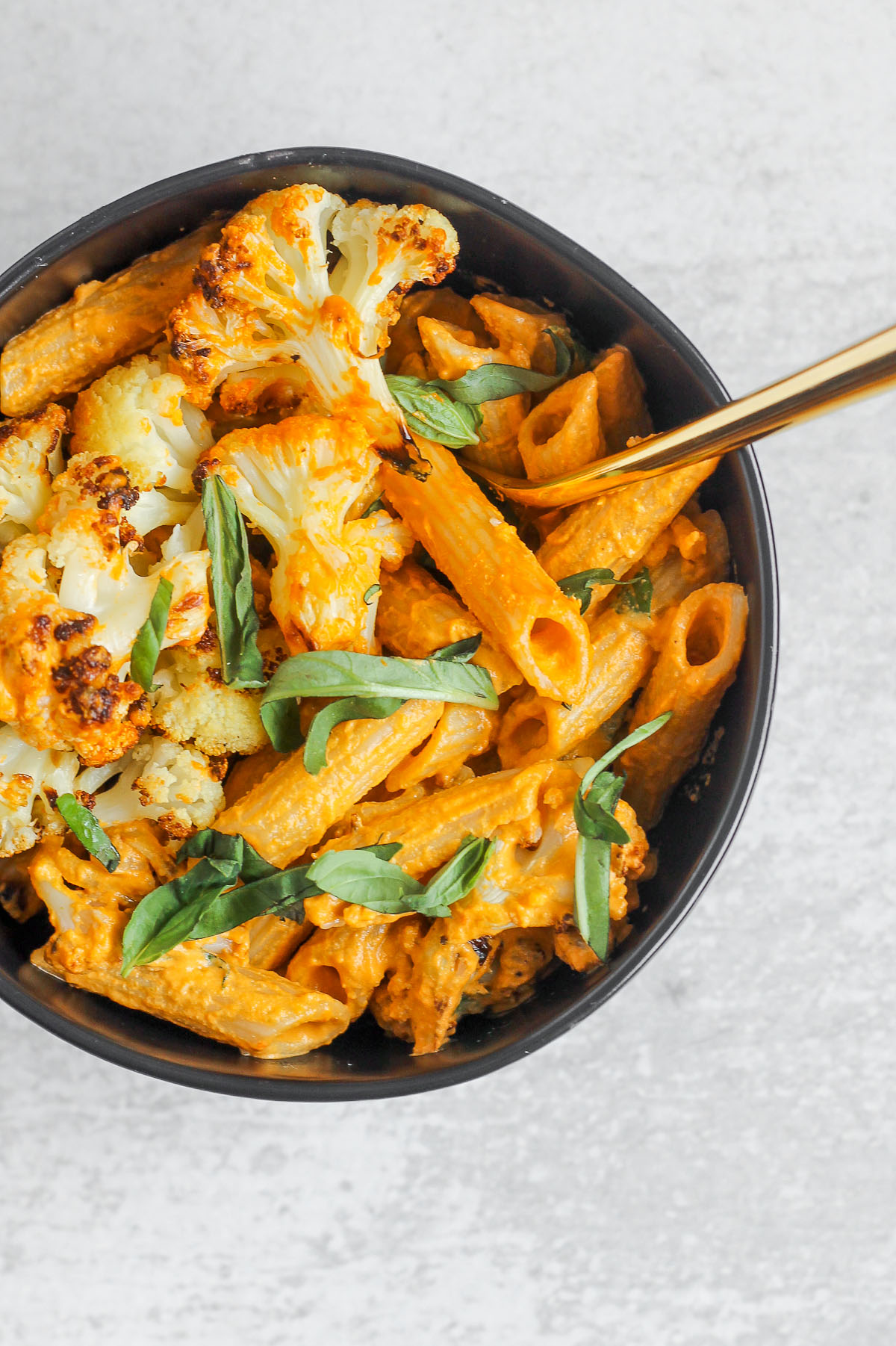 What Is Nutritional Yeast?
Nutritional yeast is deactivated yeast, meaning the yeast sells are inactive. It typically comes in the form of powder or small flakes.
Nutritional yeast is vegan-friendly and can help add creaminess and the traditional "cheese" taste in vegan dishes. It's used in sauces and many people sprinkle it on popcorn or over pasta dishes.
I like Bob's Red Mill Nutritional yeast.
How Long Will This Last?
Leftovers will stay good in the fridge for 4-5 days.
More Dinner Recipes I Think You Might Like!
Skillet Vegetable Lasagna
Gluten-free Baked Butternut Squash Mac & Cheese
Grilled Vegetable Pasta Salad
Did you make this creamy roasted red pepper pasta recipe? Please let me know what you think! Leave a comment below, give me a star rating, and/or share a photo on Instagram or Facebook and mention @CleanPlateMama.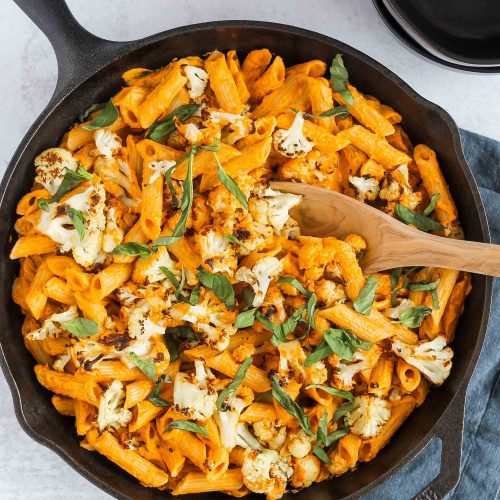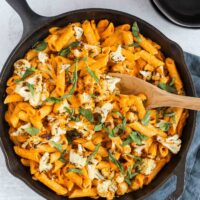 Creamy Roasted Red Pepper Pasta
This dairy-free, gluten free, roasted red pepper pasta is creamy and packed with flavor. It''s the perfect dish for your next pasta night!
Print
Pin
Rate
Ingredients
Pasta
16

oz

gluten-free penne pasta

(if not gluten-free, any kind will work)
Creamy Roasted Red Pepper Sauce
2

large, red peppers

½

cup

raw cashews

(soaked overnight or in HOT water for 1-2 hours and then drained)

¼

cup

extra-virgin olive oil

2

garlic cloves

(1 clove if it's on the larger side)

15-20

fresh basil leaves

1

lemon, juiced

½

tsp.

fine sea salt

(plus more to taste)

2

tbsp.

nutritional yeast

½

cup

non-dairy milk

(water works too)
Instructions
Prepare the Sauce
Preheat your oven broiler to high and move your oven rack to about 6 inches from the top.

Cut red peppers in half lengthwise and remove the seeds and membranes (white part). Place cut side down on a baking sheet lined with parchment paper.

Place the peppers under broiler for about 10 minutes, or until skins start to become charred. Watch closely as they will char quickly once they start. Once skins are charred, remove from oven and let cool about 5-10 minutes. After peppers have cooled, peel the skin off and discard skin. Cut each pepper half in half again.

Place roasted red peppers and remaining sauce ingredients (make sure your cashews have been soaking) in a high-speed blender or food processor. Blend on high until smooth and creamy (see notes).

Set aside until ready to add to pasta.
Roast the Cauliflower
After you have roasted your peppers, turn your oven to 425.

Toss cauliflower florets in 1 tbsp. of olive oil. Place on baking sheet lined with parchment paper (use the same pan/parchment paper you used for the peppers) and roast at 425 for about 20 minutes, or until cauliflower is browned and beginning to crisp.
Prepare Pasta
Cook the pasta in a large stock pot according to package directions.

Drain and return pasta back to stock pot. Add in the roasted cauliflower.

Pour sauce over pasta and cauliflower. Turn burner on med-low to heat up the pasta and sauce. Stir frequently until hot. Note that you may have more sauce than needed for the pasta. Add most of the sauce, stir, and if you want more sauce, continue to add until desired amount has been reached.
Notes
I use Jovial gluten-free Penne brown rice noodles... they are the bests, but any variation of noodle will work. 
You can use jarred roasted red peppers in place of the freshly roasted red peppers. Use about ¾ of a 16oz jar if using jarred peppers. 
I prefer using a high-speed blender for the sauce. I've used both a food processor and a blender, but have found that my Vitamix works better than my food processor. 
To thin the sauce you can use either non-dairy milk or water. Both turn out great. 
You can use regular dairy milk as well to thin the sauce if you aren't looking for a vegan pasta. 
I wrote the instructions in the order you should make each item - it's quickest if you do the sauce first, then roast cauliflower. As cauliflower is roasting, you can cook your noodles and blend all sauce ingredients. That way everything will be ready when the cauliflower is done. 
The roasted cauliflower is optional, but I really like the light flavor of the cauliflower mixed in with this dish! 
Nutrition
Calories:
529
kcal
|
Carbohydrates:
71
g
|
Protein:
18
g
|
Fat:
20
g
|
Saturated Fat:
3
g
|
Sodium:
198
mg
|
Potassium:
750
mg
|
Fiber:
7
g
|
Sugar:
7
g
|
Vitamin A:
1295
IU
|
Vitamin C:
99
mg
|
Calcium:
50
mg
|
Iron:
3
mg